Etude House Fresh Cherry Tint Red and Pink Swatch
May 15, 2011
Are you looking for a nice lip color that is natural?
Or are you looking for a lipstick that gives you long lasting finish and doesnt smudge when you rub it?
Affordable product that will leave you a nice korean lips is now here!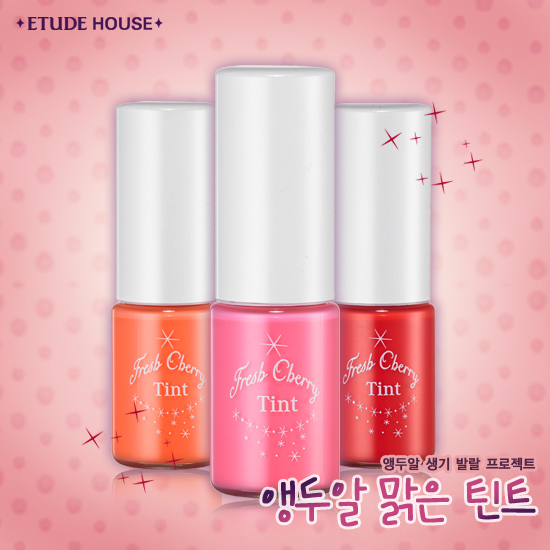 Etude House Fresh Cherry Tint!
What it says in the website "Milky smooth texture in cherry tinted colors to accentuate lips with a naturally blushed and moist look."
*
*
*
For those of you who dont know about lip tint, its been a quite huge hit especially for benefit benetint. Its like a lip color that gives you a really nice coverage but you wont feel worry it will fade away if youre eating, drinking, or doing other activities! Korean make up usually uses this to make the girls look naturally beautiful and gifted with natural nice lips, when in fact, thanks to this lip tint
Lets just take Goo Hye Sun as an example
she used a red lip tint to gives a really cute red shade on her lips. No, she didnt use Etude House because rumor said that she used Tony Moly instead. But whatever the brand, the product is still same
"A LIP TINT"
*
*
*
*
Etude House Lip Tint product's name is Fresh Cherry Tint. I think because it smells like cherry. Its one of my favorite product from Etude House, and it comes with 3 different shades. Red, Pink, and Peach
Today I will be swatching the Red and Pink only, I dont have the peach one since I'm not into peach color :b
I will be making the comparison between the red and pink, since both of them are so nice <3
*
*
*
*
The Swatches =
Left = Red. Right = Pink
you all must have known without I'm telling lol
and this is how it turns out when I smudge it
My tips for using this product are =
1. Just make sure that you dot it only, on your lips, since its opaque already. If you smear the product all over your lips it will make your lips looks too bright and fake, something that you wont want, ever
2. Smear the product on your lips using a Q-Tip. Since by using the applicator is not that hygiene, but if you prefer its ok. And dont use your fingers, because this lip tint is made to stick on your lips so well, it will stick also on your fingers. Leaving your fingers red/pink lol
3. Use lip balm before using lip tint. Lip tint is not like lip balm which will moisturize your lips, even though it doesnt dry your lips like what lipstick does. You dont want to have chappy lips, right?
*
*
*
*
omg I didnt put it well wtf -_-;
lets take it once again...
*
*
much better ;)
well you guys must have noticed that the left side is pink, and the red one is on the right...
So if you're still hesitate which color will suit you best, I hope this comparison can at least help you deciding which shade you will buy
I, personally, like the pink better. I'm such a chicken using red color, but seriously this red tint looks really natural in real life. It gives me such a nice red like a cherry ;)
You may buy it on the nearest Etude House stores that you know, or you can just order it through G-Market.
*
*
*
*
�
and this is my FOTD btw, Its been a long time since Ive put gyaru make up. I'm back completely into this community T___T I will try my best to become a nice gaijin gyaru.. lol
Oh, this look is supposed to be a 'spring gyaru inspired make up' tutorial and 'how to dye your eyebrows' tutorial, ive recorded it using my canon 550d but it's just halfway recorded and I didnt noticed T__T i still hesitate whether i shall post it on YT or make other tutorials. so sad *sobs*
Btw, this is what I used for creating this look, not that special though =
Face =
Hada Labo SHA Lotion
Shu Uemura UV Under Base SPF17 PA++
Revlon Colorstay Foundation in Medium Beige
Nars Loose Powder in Eden
Eyes =
Canmake Four Shiny Eyes Palette
Code B Strong Eyes Cream Liner in Strong Black
Dolly WInk Liquid Eyeliner
Heavy Rotation Powder Eyebrow in Medium Brown
The Body Shop Gel Eyebrow
Lips =
NYX Soft Matte Lip Cream in Tokyo
MAC Plushglass in Cushion White
NYX Concealer
Cheeks =
Stila Contouring Trio Palette
MAC Powder blush in Pink Swoon
*
*
*
*
until next time, bye ;)