Koji Dolly Wink , Produced By Tsubasa Masuwaka
May 08, 2010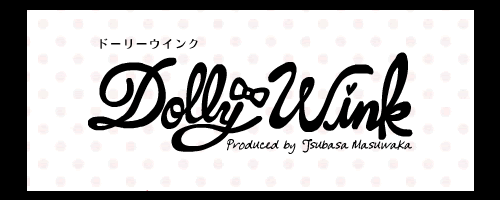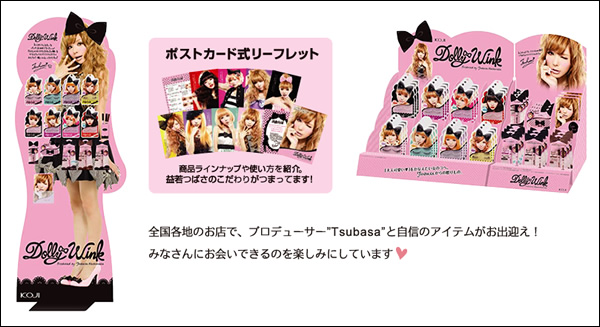 Dolly Wink is a new cosmetic brand launched by Tsubasa Masuwaka; a gyaru top model, who colaborated with Koji, a japanese cosmetic brand. It has launched since November 2009 and gotten great responses and reviews from all make up lovers for it's cuteness and good quality

*

*

*

*

Some pictures of Tsubasa =




so pretty and adorable!!

her hair shade color is what I always want to achieve! but like Ive said before on my palty post, mom ruined the dyeing process T____T

*

*

*

*

The Dolly Wink line consists of several different fake eyelash sets with names like Baby Cute, Dolly Sweet, Sweet Girly and so on. There are also eyeliners and mascara available, which all in insanely cute packaging, of course. All of these products have the goal of helping you reach the near nirvana state of adult cute, which is the concept of Tsubasa�s Dolly Wink brand.

the Eyelashes series are perhaps the most popular and main products on this brand because it's promoted so well for this one. But I've read so many reviews that the eyeliner is easy to use and not smudge that much compared by other same-level brands!

The Eyelashes =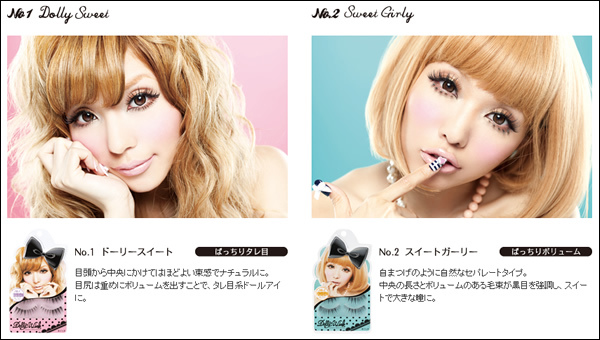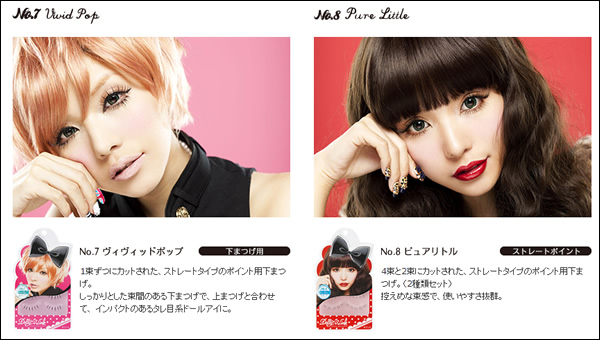 each box consists of two pairs of eyelashes. no 1-4 is for upper eyelashes whereas the no 5-8 is lower eyelashes.. It gives different feeling and shape for each eyelashes, perfect to achieve what style you want to achieve because Dolly Wink provides a lot of different styles!
For me, I like no 2 and 6!! those are soooo adorableeee...
and you know? each box costs
� 1260!!
so expensive! even the price is only at japanese retail, in ebay its about
U$25
, and at some stores its about
U$36
T________T
Liquid Eyeliner, Pencil Eyeliner, Eyelash Glue, and Eyelash Case (price is on the picture) =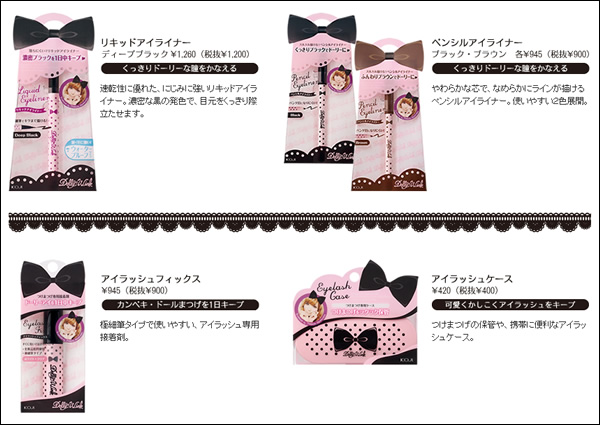 price above is the japanese retail price. means you will buy it at higher price if you buy it not at Japan T___T
It's liquid eyeliner is
spidol type.
so no need to worry if you cannot use the usual liquid eyeliner, because spidol type is easier to use!
completed by its eyelashes case to keep your lashes safe and clean!
Tsubasa success making me tempted to buy these products since loooooonggg time agooo T_____T
she just knows how to achieve gyaru look with cute style, without looks horrible or too much make up! Yes, I do KNOW that it's not that worthed to spend so much money just for eyelashes but......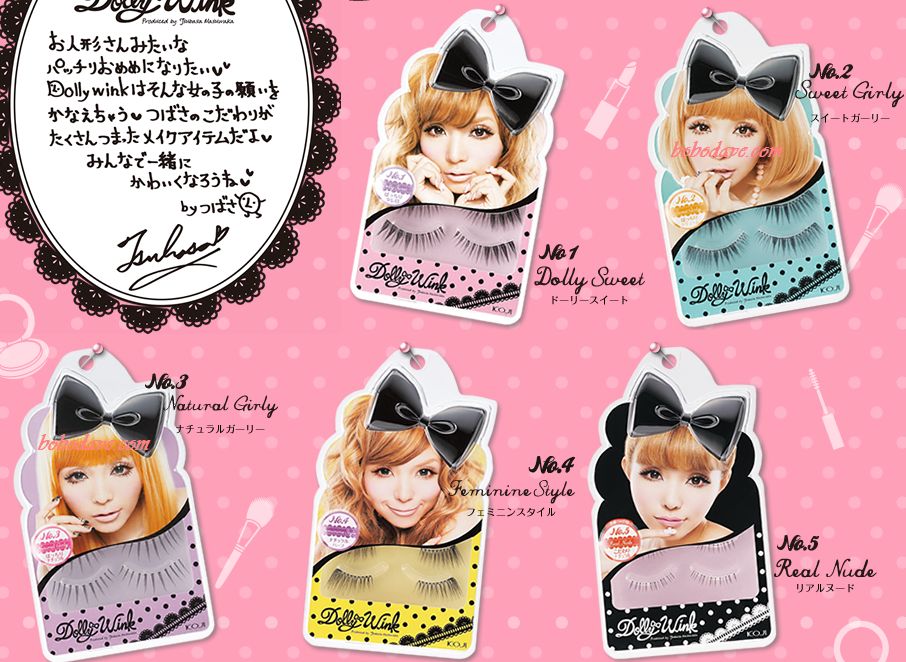 this series keep haunting me to buy each time I see its producttttt T_________________T
I will buy it for sure, but not with higher price. The best way to get cheaper price is to ask a friend in Japan to send it for you, and I'm waiting for my friends :B
but if you all cannot wait to buy and willing to buy it at higher price,
Ichibankao
or
Sasa
provides these brands!!
*
*
*
*
*
*
*
but.........
there is a good news for everyone who's tempted to buy DOLLY WINK!!!
without need to spend any money!!
in a SIMPLE WAYYY!!!
WIN no 2 Dolly Wink, Sweet Girly, and its liquid eyeliner in Deep Black by following this giveaway which held by http://thiswasforever.blogspot.com !!
the rules are soooo simple!!

1) Must be a follower of thiswasforever. Click on the side bar "follow" button if you have not done so. I will double check to make sure that the winner is a follower of this blog just to be fair to everyone
2) Post a *NEW* entry about this giveaway on your blog(which Im DOING!!) linking back to this post. A new post still needs to be posted even if you are putting my link on a side bar. Once again, I'll double check this. Feel free to use any of these images on your post!
3) Comment on this post using this following format:

Name:
Email:
Blog URL:
URL for the post about this giveaway:

NOTE:
-This giveaway is open INTERNATIONALLY
-This contest runs from May 6 - May 31 (11:59pm) HKT (the blogger is in Hong Kong now, which is 12 hours ahead of EST)
-The winner will be chosen randomly
so, GO GO join this giveaway to win these lovely products!!
I'm so nice to bring this giveaway to you all, my readers! I promote Dolly Wink not because they told me to or anyone sponsored me, no! It's just because I believe you all need to know how amazing this product is, and tempted to buy just like me, ehehe~
I'll go to KL this end of May and I'll try to find it there cause its available in sasa outlet in all malaysia [which Indonesia doesnt have, hate it!!]
and Ive been back from Bali yeaayy! it was such a great journey for me and a soooooo-happpyyy-timeee!!
photos are being edited by me, so please be patient to wait for my Bali post, which I believe is soooo great! :D
goodbye for now lovely readers!
tell me if you join this giveaway too! ^_^