Epidermeskin Product Reviews
September 27, 2011
I was contacted by Epiderme Skin to review their products about 1-2months ago, and finally their samples have arrived. Of course must review it, right! :-)



Our laboratories based in the United States place great emphasis in Research and Development. Our efforts are focused into formulating the best combination of Cosmedical (Cosmetic + Medical) of delivery system that can effectively penetrating into Epidermis to resolve the skin problems.




Combining the latest in Dermatological science and technology, we develop our products using scientific advanced solutions that promote optimum skin result. Our expertise is mainly in our serum range products which not only delivers instant result but also safe and reliable results.




Using the latest scientific research and pharmaceutical quality ingredients, our scientists in United State develop innovative products by utilizing the latest and most effective in scientific 'green', organic, safe and natural ingredients and technologies in order to achieve the best formulary combination that fits EPIDERME's philosophy. Safe and attainable results have always been our benchmark, giving us class leading capabilities when it comes to treating skin concerns globally. EPIDERME products are Paraben-free.




In the coming future, our goal is to continue our pursuit of new technology and excellence, bringing improved and effective solutions to the marketplace to address consumer and physician needs. -- taken from Epiderme's website



Why you have to try Epiderme?


It's Paraben Free


It's Gluten Free


It's made from Active Botanical


It has natural colors


The location of the store is based in Malaysia but they offer Free Shipping Worldwide if you purchase their product. When I was contacted by the director, they asked me about my skin condition and my skin's issue to know what exactly the products that I need. I find it's really considerate and nice because they don't want their customers to purchase random products. You can contact the customer service if you are not sure which products you need for your skin :-)
All the products from Epiderme are made from natural ingredients such as yoghurt, daisy extract, alpha-arbutin, tyrostat, carnitine, and so on. They don't use coloring chemicals therefore the color remains natural. All the products have weird scent that you usually find when you receive treatment at beauty aesthetic. I dont find it's a pleasant scent because it reminds me of doctor and hospital, although it's not that strong. The full size products packaging are also below my likeness, because it's plain and not unique at all
And when the samples arrived at my place, I am honestly really disappointed with the little amount that they sent me. Usually it takes minimum 2-3weeks to test about how the products work on skin, but the small samples only last for 2 days, that's why I cant get maximum review about it :-(
Rich concentrate cleanser that improve skin extracellular matrix repair and reduce skin inflammatory damage. Skin is left feeling soften and ultra condition.
First step I removed my make up using hydration cleansing milk. It's really creamy and it works amazing in my opinion, it removes the make up so easily and it glides smoothly on my skin because of the texture. It doesnt feel sticky on my face, but i cant bear the doctors-beauty-products-smell. Its white clear, and its quite thick, I can use it for a few times because I only need a little to clean my entire face
Rating = ★★★☆☆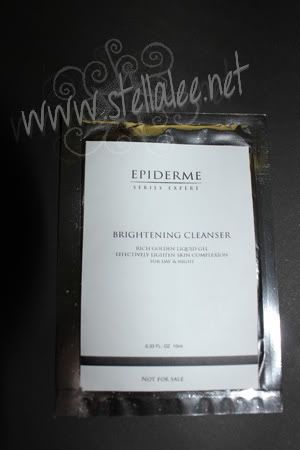 A rich golden liquid gel that effectively brightens and moisturizes the skin while cleanses and leaves skin clean, refreshed and velvety soft.
Smells terribly strong, I believe the tyrostat ingredient in this cleanser gives that strong chemical scent. I use the brightening cleanser to clean my face after i remove the make up. The color is transparent dark yellow, and it's quite thick. I rarely use cleanser to clean my face, instead I use cleansing foam, because I'm not used to. But it cleanses my face thoroughly and doesn't make my face feels tight. Combining the cleansing milk with this cleanser, it removes the make up + clean face completely. I checked using toner to see whether there are make up or dirt left, but my face is clean after the usage
Rating = ★★☆☆☆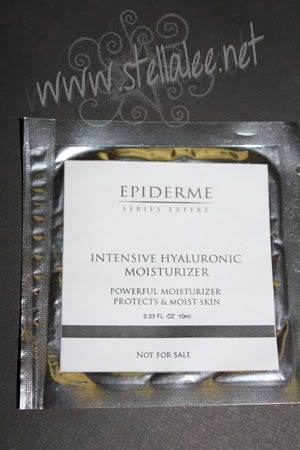 A powerful moisturizer which protects and moisturizes skin. Formulated to lubricate and prevent trans-epidermal water loss. Encourage skin's natural film forming and minimizes water loss caused by free radicals.
Always use moisturizer to moisten my face is in my skincare routine. Unfortunately this moisturizer is one of the worst moisturizer product I've ever tried so far. It comes with a thick creamy moisturizer but it doesn't blend in with my skin! Usually I use my Hada Labo Emultion as moisturizer and it goes nice and smooth on my skin. But when I applied Intensive Hyaluronic Moisturizer and began spreading it out, it was horrible because it feels greasy and hard to spread. It took me about 1,5minutes to make sure it blends in with my skin. Truly disappointed, even though it contains super nice ingredients but the application is really difficult, yet again, the smell is quite strong
Rating = ★☆☆☆☆
The antidote for acne skin; a super-concentrated gel formulated using Lilac Stem Cell that fight against acne condition through sebum regulation, yeast control and anti-inflammatory activity.
I have combination skin so usually my T-Zone and jaw get oily easily, and so far no products can really work to mattify my face, but Epiderme Matte Gel did amazing job in this case! The texture is quite similar with the brightening cleanser, its the transparent yellow gel and it blends nicely with my skin. I rubbed it on my finger tips and began spreading it out on my face, focusing on my oily parts. It doesnt feel tight and my skin feels less oily than before! When I am using make up, the oil usually comes 2-3hours afterwards. Apparently by using this product before putting make up, it helps my face to get it less oily, 5-6hours oil will be visible but that's such an improvement! I'm really impressed with this one, though the smell decreases the rating
Rating = ★★★★☆
Powerful ultra calming treatment masks which can be worn after a treatment to calm and infuse the skin with anti-aging benefits. Enriched with algae which is proven for their impressive triggers of strengthening skin, firming skin and improving skin tone. Phycocyanins decreases inflammation of the skin combined with blue-green algae which gives CPR Ocean Mask its subtle, cool hue.
It's a rinse off transparent mask that gives cool feeling after usage. You need to put it on your mask for about 20 minutes and rinse it off with water. I usually use mask once a week to give back my skin elasticity after a hectic week. The smell is tooooo strong and I almost cant handle the mint sensation, truthfully I hate mint but I bear it to test how nice the product. I'm not a fan of gel and rinse off mask since I love the efficient sheet mask therefore I feel rinse it off is such a pain, it felt a little sticky when I tried to rinse it off with lukewarm water. But apparently my skin feels firmer and fresher than before after the usage
Rating = ★★★☆☆
*
*
*
*
*
Overall Review =
I think that Epiderme products are worth to try, Despite their bad smell and packaging, their products are made from natural ingredients. But I don't understand why some products from them are nice, whether the rest are not that good. Probably if I use it for a long term, I can say that how these products improve my skin, unfortunately they only sent me small quantities so I don't really can catch best result of them. Although when I've used those, I feel my skin is a little smoother, much brighter and firmer, and less oil on face
But I can't say much and tell that I'm really impressed, because honestly there are no great visible improvement. After all, skincare needs to be tested at least 2-3weeks to know its best result. But if you're interested to try it out by yourself, you can contact Epiderme to ask for free samples! Just simply visit their fanpage here and told them that you're interested to try their products. Their staffs will answer your problems and analyze which products work best for you!
And, if you're interested to purchase from them, you can receive 20% discount from all their products using coupon code ke20zh when you're checking out. They give free shipping worldwide! And the offer valid until 31st October! :) Visit their website HERE