Review / Comparison : Dolly Wink Liquid Eyeliner VS K-Palette 1 Day Tattoo Liquid Eyeliner
September 23, 2011
Both of these eyeliners are both of the most famous Japanese eyeliners that mostly people know. I decided to do the comparison of both of these products since I happen to own both of them :-)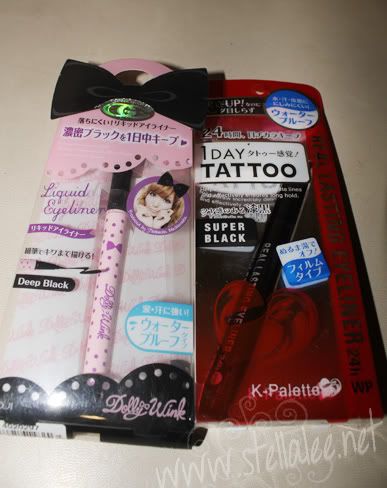 I hope if youre gonna buy an eyeliner, especially those of you who are hesitate to purchase which one, this might be helpful for you!
Comparison Based on =
1. Box Packaging = DOLLY WINK WINS!
While K-Palette box is only made from ordinary red plastic box, Dolly Wink comes with a cute packaging with a pink-purple + polkadot theme, Tsubasa's face + Ribbon on top, it's really eyecatching and hard to resist! Definitely a win for Dolly Wink
2. Product Packaging = DOLLY WINK WINS!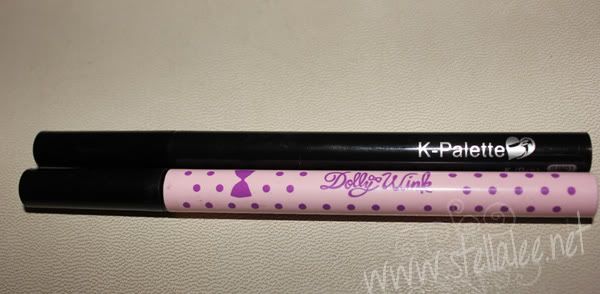 Again where K-Palette eyeliner is only made from a pitch sleek black, Dolly Wink comes with a pink polkadot cover. It's really cute and sweet, truly different than other regular eyeliners, and of course people will notice your Dolly Wink eyeliner more than K-Palette!
3. Availability = DOLLY WINK WINS!
Due to Tsubasa's popularity [the Dolly Wink's model], it's not that difficult to find a seller who sells Dolly Wink products, especially the eyeliner. You can just google it and voila! hundreds of online stores sell it! But as for K-Palette, it's quite difficult to get a reliable seller. Of course you can always try ebay and amazon, but finding it is much more difficult than Dolly Wink
4. The Precise Tip =Â DOLLY WINK WINS!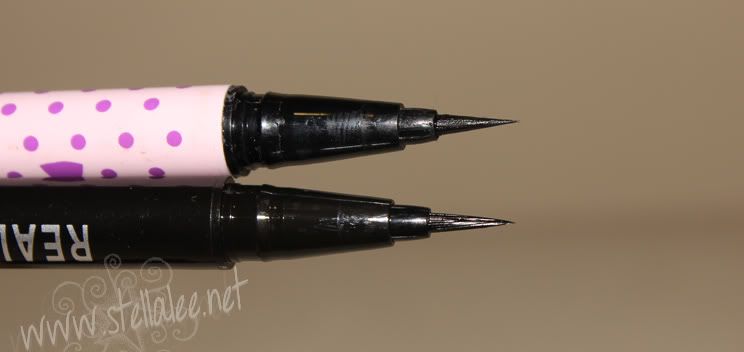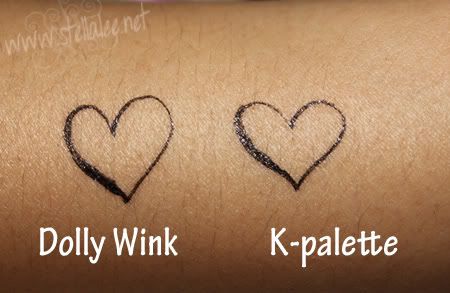 It's almost same, but the Dolly Wink's eyeliner tip is smaller and gives more precise thin application. Especially if you want to draw a thin line on your eye's inner corner, it gives better control and thinner line compared to K-Palette
5. The Pigmentation= DOLLY WINK WINS!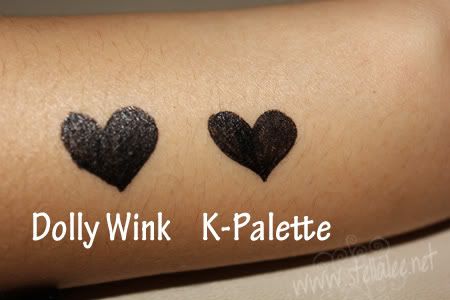 Dolly Wink's pigmentation is much much more black and intense than K-Palette. It's not like K-Palette is not that intense, but Dolly Wink eyeliner is probably one of the darkest eyeliner outside there. Another reward for Dolly Wink

6. Long Lasting =Â K-PALETTE WINS!
Dolly Wink tends to crack after 3-4hours on me, and it loses its pitch dark line afterwards. While when I was wearing K-Palette for over 5 hours, it still stays there and doesnt even change slightly. While wearing K-Palette, you don't have to worry about touch up for whole day! Although Dolly Wink is pitch black, but it tends to lose its line after a few hours, so you always need to bring it for touch up, an opposite from K-Palette.
7. Waterproof = N/A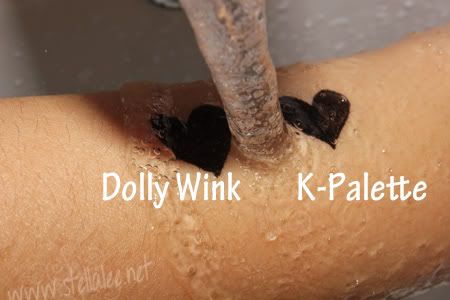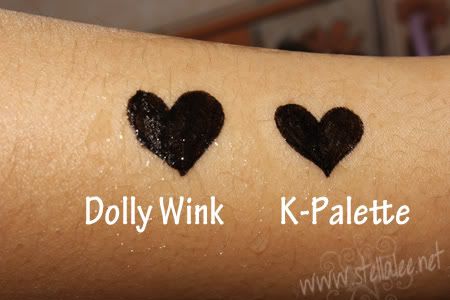 Both are in same quality for waterproof test. I pour water on top of them, and both of them are still staying there nicely [unless you rub it!]
8. Smudge = K-PALETTE WINS!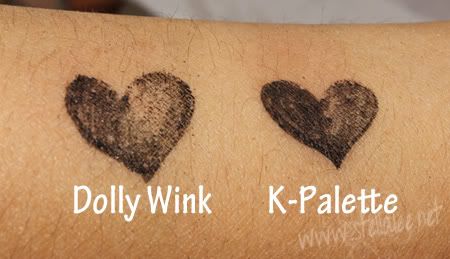 I smudge it with my thumb [same pressure] and K-Palette's smudged a little while Dolly Wink are cracked badly. Please note that the K-Palette itself is not as pigmented as Dolly Wink, so the color is of course lighter than it on the camera. Although, Dolly Wink is much much more easily smudged and lose its line quicker and easier than K-Palette
Price = K-PALETTE WINS!
K-Palette's eyeliner original price is 1200Yen, whereas Dolly Wink's eyeliner original price is 1280yen. Though outside Japan, the prices may vary, and probably Dolly Wink could be cheaper on some stores compared to K-Palette as it depends on the stores and where you live, but for the original price, K-Palette is slightly cheaper than Dolly Wink

Removing = N/A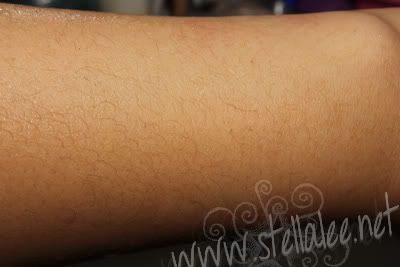 Both are easily removed by remover. I try remove it with cleanser, eye remover, and water, and both of them are easily removed and doesnt leave any mark or black shadow on skin. I also put it on water test. I run water on top of them, and then while it still wet, I rub it, then both of the lines are easily disappeared!
 *
*
*
*
Overall =
5 Points for Dolly Wink and 3 Points for K-Palette
Both of these eyeliners are amazing, and it's quite difficult to compare them because they work almost same. So,
If you're looking for a cute, easy to find, precise tip, and is okay with touch up = Get Dolly Wink!
It's my Holy Grail Eyeliner, unfortunately it's easily smudged and I tend to yawn a lot, therefore when I wear it, it sometimes smudged. But I can't find any other eyeliner that can give better precise application than Dolly Wink. I can draw a super fine thin line with this, especially to change my eye's shape by drawing a line on my inner corner. It's something that other eyeliners dont have. Also Dolly Wink is super famous so if you bring it, your make up junkie friends must have known it by its packaging! lol Although its pricey, but its worthed to own one
If you're looking for a cheaper alternatives, long lasting, smudge-free, and have oily eyelid = Get K-Palette!
I find that K-Palette eyeliner works better for people with oily eyelid compared to Dolly Wink. I know Dolly Wink is better than K-Palette in some aspects, but if you dont wanna panda eyes, get K-Palette instead! You can always build up the intensity color by layer it, but you're guaranteed to not get your eyeliner as smudged as Dolly Wink. Although it's quite difficult to find it, you can always look one if you really want it! As for Indonesia citizens, you can purchase it on MyLovelySister as they are the one that sponsors K-Palette for review purpose. I dont think many sellers carry it, and they're the first one to sell it Ready Stock as far as I know
*
*
*
So yeah, it's quite a long comparison post, but I hope that it would help some people to know what's best from them. Overall I love both of them. I now use K-Palette more often as I have oily eyelid and often yawn lol but I use Dolly Wink for drawing my inner corner, and bring it for touch up :b
So Tell me gals, which one do you think suit you best! :-)