Hello 19!
September 13, 2011
Yes gals, I'm officially 19. That means I only have one year left to spend before I reach adulthood, 20 *exhales deeply* :(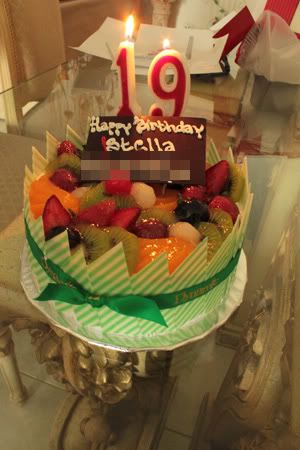 my real family last name is protected for privacy ;)
In this year, I'm not that hype about my birthday like what I used to be. I even told my parents and friends to not spend any money on my birthday because its such a waste. But parents insisted to purchase a big cake and I was like woah~, who's gonna eat it? -_- but since she bought it with much effort, I couldn't resist it and instead tried to look happy
No dont take me wrong, I'm not sad or emo at this time. I'm just thinking about years that I have spent so far, and I feel that I've achieved nothing nor I give any to anybody. I wish I could be useful for people. Being needed is really a glorious feeling and I feel like that I should have done so many things back then when I could.
So in my 19, I took a little time to reflect on what I'd done so far. I find that I only did reckless things and useless stuffs. I dont think I've contributed anything for my country nor my people. Deep thoughts, yes. It's not like I'm not happy with my life, but I believe that I should have done something great in my life. Something that is inspirational, and useful
So in my 19th age, I realize that I should have stopped playing reckless and rebellious. Its one step behind adultery, and I should have become mature enough.  I'm still lack of maturity, and act ridiculously selfish. I'm not perfect nor claim as one. But I hope in this year, I could become a better person and become an inspirational yet useful person :)
So, I made wishes for me as well in this birthday, I'd like to have 3 wishes!
Love, Money, and Happiness!
I know it sounds silly and materialistic haha, but hey, really, that's what I, and everyone need! correct! ;-)
*
*
*
Moving on, I'm sorry for the lack of updates, I've been *ahem* quite busy playing the Sims Social on Facebook with my univ life! lol I promise I'll be back soon with a lot of posts! And anyway, Ive changed my theme, and this time it's through Tutpress help! They offer me to have their premium themes for free based on my preferences! SO NICE! Do you like it or not? They offer a lot of stuffs such as themes, plugins, and web development as well for wordpress based site. so if you have problems with your blog, you can always use their service!
Also, when I reach home, I received 3 awesome stuffs as well! I received a pair of circle lenses as review purpose which was sent by PinkyParadise, a sample skincare set from a brand [will be reviewed soon!], and an email from a local company asking me to collaborate with them [still talking about it! wish me luck ok! im so excited about this project!!! cant tell yet!] :-D
So yeah, I wish everyone had an awesome day
forgot to mention, I need a boyfriend by the time i reach 20! *galau* LOL
with love <3