K-Palette 24h Real Lasting 2-Way Eyebrow Liner in Honey Brown Review and Swatch
December 24, 2011
We all know how amazing K-Palette 24H Eyeliner, it stays all day, and one of the best selling japanese drugstore eyeliner. Now lets take a look a little of their other product, which is the 24H Real Lasting Eyebrow! Promising to stay on your eyebrow for 24 hours, also comes in many different colors to match your eyebrows. For me, I choose Honey Brown instead because it matches my hair! So, shall we see how the product goes? :D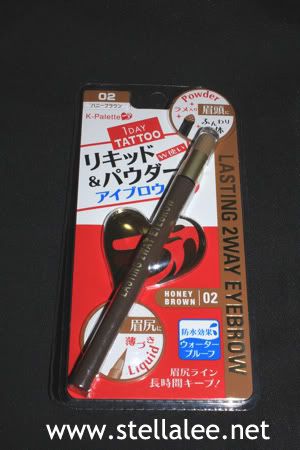 The revolutionary 24H Real Lasting 2-Way Eyebrow Liner now comes with a powder tip on the other end to compliment its liquid tip!


You can now simultaneously shade and tint long-lasting eyebrows with its smudge-proof and water-resistant polymers, and use the powder tip to draw eyebrows even more naturally.

This waterproof eyebrow liner is made of just the right amount of translucence such that the colour is deep enough to conceal the sparse areas of your eyebrows but not too dark that it gives a severe and unforgiving tone. If you require a darker tone, just go over the same area twice or more. Suitable for everyone, from beginners to prefessionals!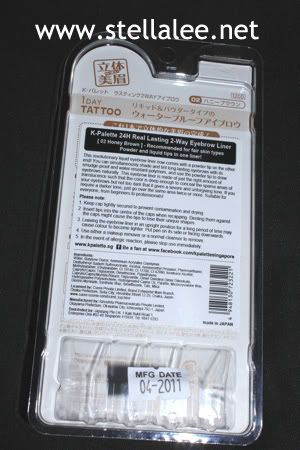 Eyebrow takes a big change in our face, its something that frames the face. Especially if you dont have bangs and show your eyebrows often, Make sure that you groom and draw it pretty well. Its really amazing what eyebrows can change our whole look. K-Palette 24H Real Lasting 2-Way Eyebrow Liner can help you change your eyebrow look easier than any other product. The packaging is like any other Japanese dugstore products, comes in plastic box but with cute design
The eyebrow liner is dual ended. The product packaging is simple but classy, it's made from plastic so you dont have to worry about breaking it. What I love the most is that you don't have to sharpen the product like when youre using eyebrow pencil. Sometimes sharpening can take a lot of time, especially when we're in a hurry. So this product is really handy and efficient, especially if you bring it when you're traveling!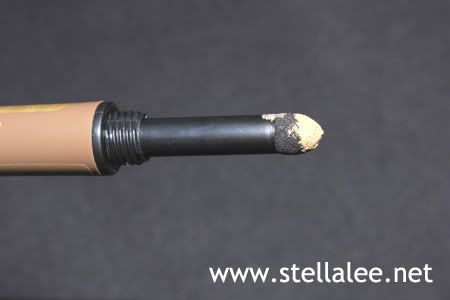 The first tip is the powder tip, purposed to give you a natural and soft look, ideal just to fill gasp on your brows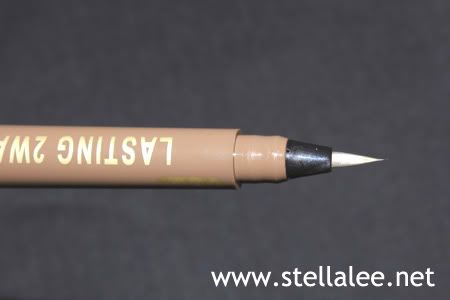 Another tip is the liquid liner, means to give a sharper look and and create fine end on your brows
What I usually do is to combine them. First I use the Powder Tip on my front eyebrows, then finish the end using the liquid liner to get a clean and sharp look. You can always use one tip instead when youre in a hurry, but I prefer to use both to enhance my eyebrows! :D
This is the official how-to for the Lasting 2Way Eyebrow =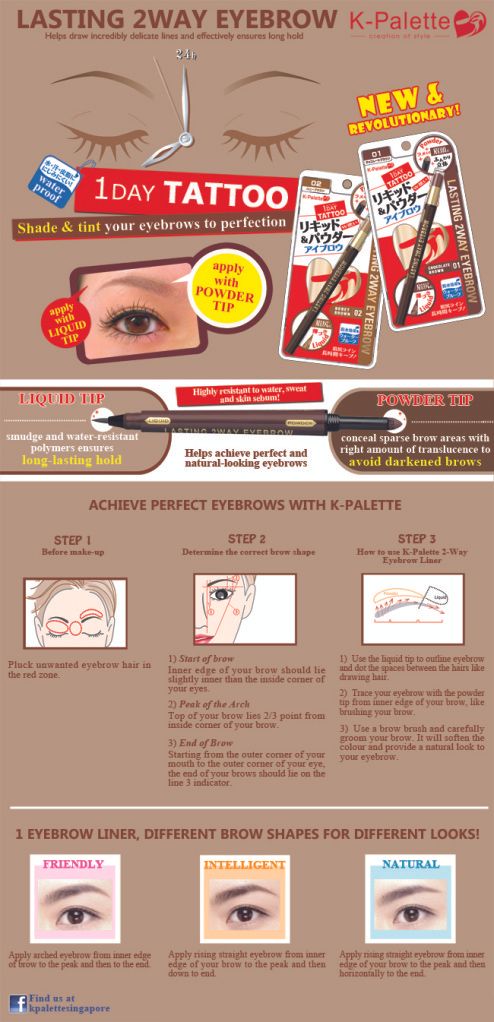 So I draw eyebrow on my hand, use the Powder tip on front, and make the clean and sharp arch in the end using the liquid liner. This is how it looks like =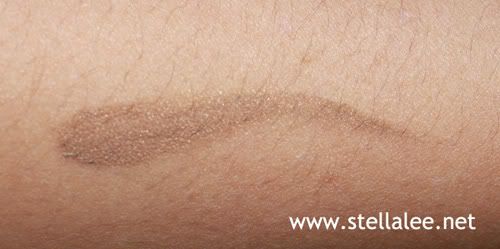 Looks natural and blended well right? What I like from the product is I don't have to brush my eyebrow anymore as it looks natural the way it is. Sometimes pencil eyebrow can be too harsh and fake so you always have to brush it again to blend with your natural eyebrow :-( Not to mention the breaking part
You can get it from BeautyCarousel for only S$23.90 [around 15USD] HERE, not a bad price for me although some may find its too pricey as it's only for eyebrows. But, because it's a high quality product, and it's difficult to find sellers who sell this product [I haven't seen any other stores carry this product!] I think that it's a fair price
As for the staying powder, i think that it does its job pretty well! Although the liquid liner fades out after 6 hours, the powder can stay about 8 hours on me without smudging! Impressive!!
Final Opinion =
Pros :


Efficient


Blends naturally with real eyebrows


Can be used in many ways


Travel friendly


Doesn't have to sharpen the product everytime I use it


Goes on smoothly


Gives subtle color


Comes in many colors [grey, brown, etc]


Easy to use, especially for beginners


Stay up to 6-8 hours on me


Cons :


Some may find its a little bit pricey


Hardly can see when the products run out


Highly recommended product, especially if you're clumsy and often break your make up products, I think this is for you! And for those lazy people *like me lol*, sharpening eyebrow pencil everytime we want to use it is really bothersome, so I love the efficiency on the product a lot! Christmas is coming, and I will only go to church and have dinner with my family! Nothing special though haha
What about you? How are you going to spend your Christmas this year? :D