Well Hello There Kuala Lumpur! Attending Nuffnang Asia Pacific Blog Awards 2011
December 20, 2011
If you guys followed me on twitter, you must have known that I was away last weekend for attending Nuffnang Award Party! Yea, I am still on my exam but I adjusted my schedule to be able to attend it! Lucky that last Friday I had no class, but still, I have so many projects for exams therefore I have to finish all of them before I fly to KL, right? So for the past week I lack of sleep, only like 3 hours each day, its just for, Nuffnang Asia Pacific Blog Award!
If you dunno nuffnang, youre missin out ok! Hahaha.. Nuffnang hasnt opened any branch in Indonesia, but I know the founder, Timothy and Boss Ming, and so Tim asked me to come there, also can ask other blogger friends of mine. I mailed many bloggers, but mostly couldn't attend because they were going overseas at that time, had work, or even had time to attend in their own town. Oh well :(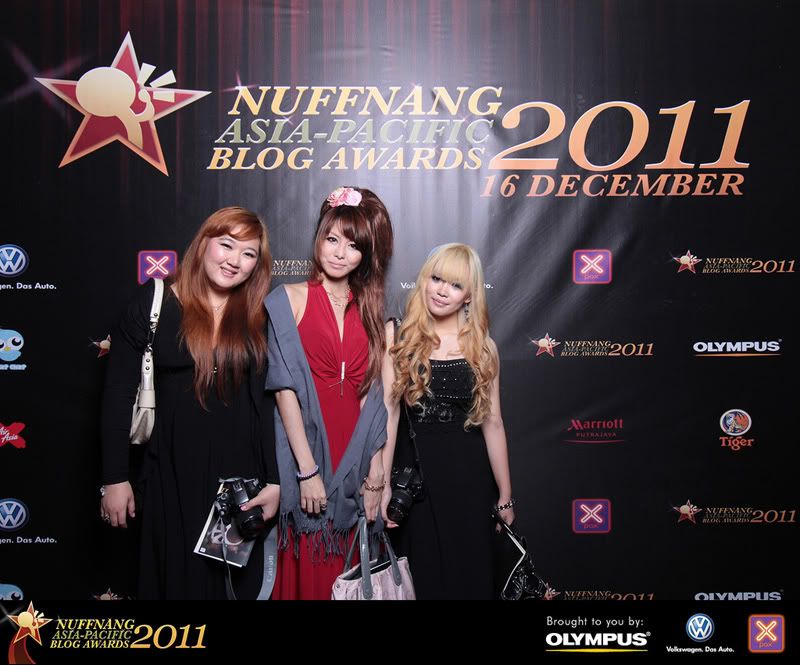 Soooo... only Cilla who could come with me, basically she knew Nuffnang too so it's really easier to ask her to join me because I dont really have to tell her what nuffnang is, while others ask me to explain nuffnang. Well, complicated y'know lol Indo bloggers still dunno Nuffnang yet so its kinda difficult haha
Oh and its Sochi! Sochi is Singaporean gyaru and we talked through whatsapp a lot before the event, we know each other because we individually made post about nuffnang and keep in touch up to now. I am super excited to meet her because she's the first gyaru that I encountered in my whole life! She also likes visual kei, especially Miyavi, but I am more into Gazette haha. Well nuff of the story, still have so many things to write about so I really have to divide my trip to many posts ok! :D
now move on!
Nuffnang Asia Pacific Blog Award is an annual event of Nuffnang Company, this time located at Kuala Lumpur, Malaysia, and we're staying at Putra Jaya Mariott. I have to catch my flight early in the morning so I dont even bother to put make up, that's what sunglasses are for! lol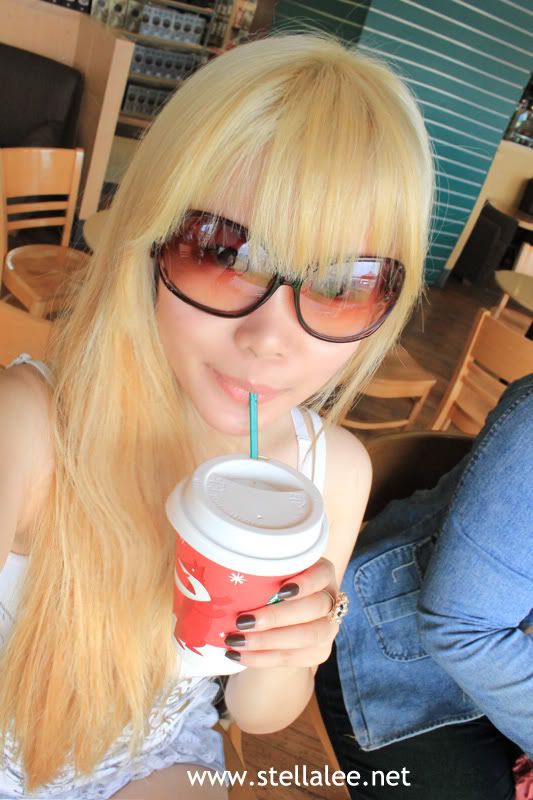 So I was drinking starbucks while waiting for the plane, I drank cappucino lor! I never really liked coffee before this but recently I am addicted with the taste! o_o FML am I old already?
A lot of my friends also sent me texts to take care in KL and bring them souvenirs lol! All so nice! Mom even got worried a lot though this is the second time I went abroad without her, last time was in Taiwan but I went out with my friends and teacher. This time, Mom doesnt know anyone who I go with so she's practically really worried :( But I can take care of myself, and Im pretty much sure that all the bloggers are nice, so I accept the challenge wtf!
I arrived at the hotel around 2, and amazed by the lobby. Putra Jaya Mariott has this big christmas tree to show their Christmas spirit. Also the building is really huge and awesome!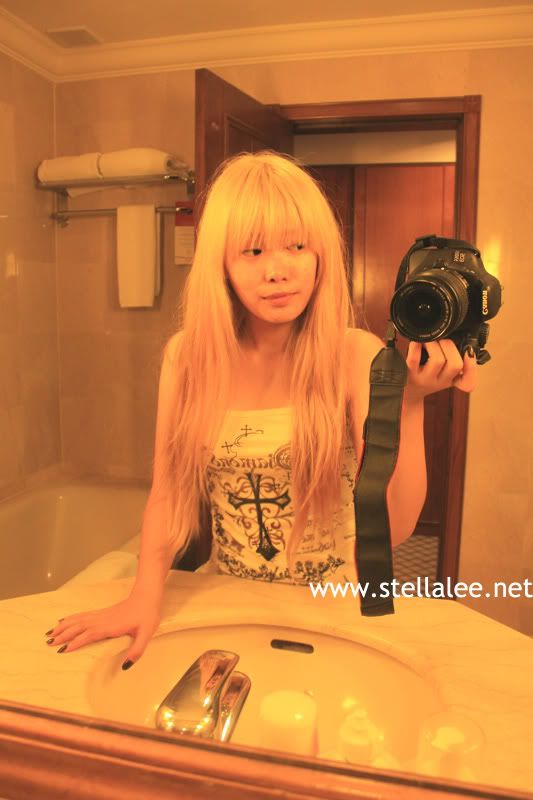 Ok no make up face wtf. Prepared to take a shower and doll up, I have 4 hours to do my make up and hair! Must do best best best~! I looked pretty tired, didnt I? lol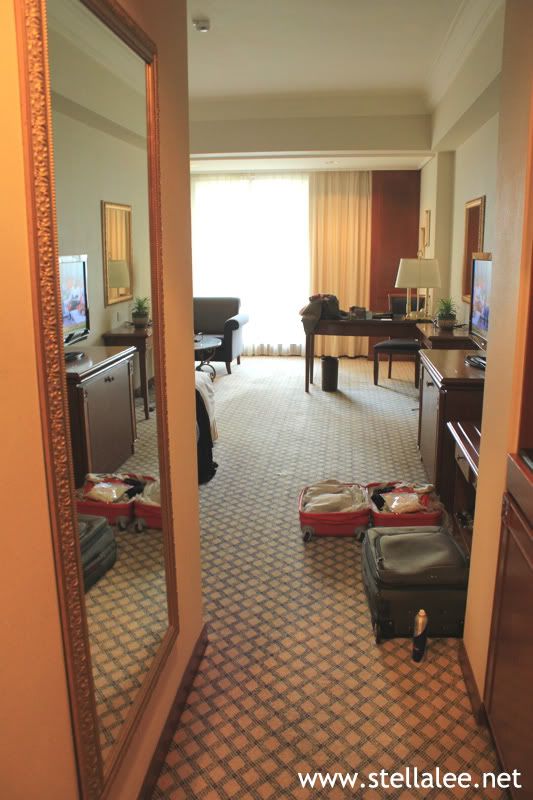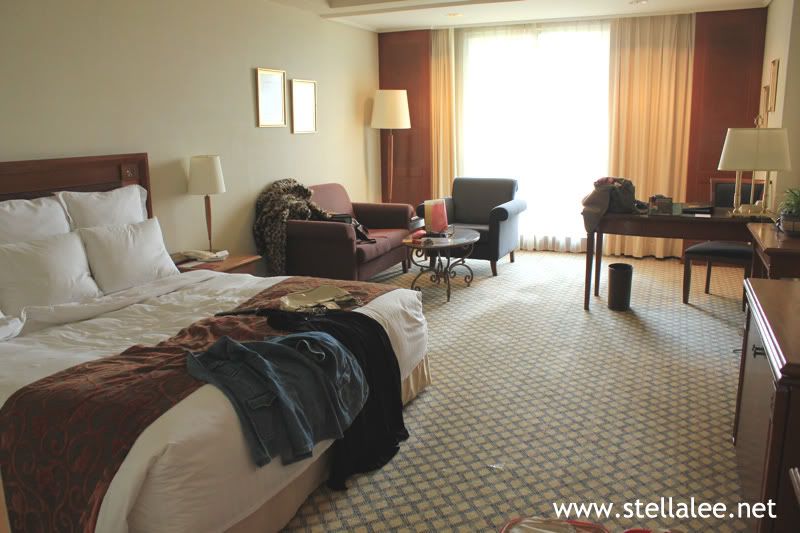 Finished look! 4 hours is not a waste, I'm inspired by Sakurina Ageha style, look good or not? LOL
So went down to the main hall but my bad habit is, when I get nervous or stressed out, my tummy becomes really cold and I get painful stomachache after minutes! I was super worried because nobody knows me, and I'm sure everyone knows everyone, while I'd be left behind, and just sat on the corner, singing song by myself FML
Because y'know, I was never really a Nuffnang Blogger, I was super afraid LOL and my english speaking is never good, especially because I havent talked to anyone directly in english for the past few years therefore I wasnt confident :S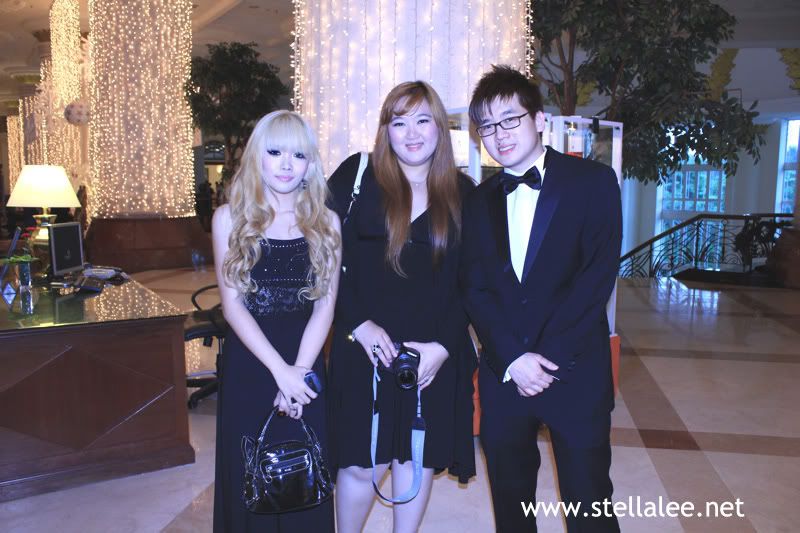 With Tim! The co-founder of Nuffnang! Just got engaged with her super pretty fiancee! Haha!
See my face, super nervous, tried so hard to smile but ended up like that >___>;; I looked so stiff
I told Tim about how nervous I was and he was like "oh that's fine that's fine, I will introduce you to some bloggers!" But I almost fell on my way there and couldn't handle the pain on tummy wtf! LOL;;;;; I was worried would be rejected like "oh hello, Indonesian? uh , ok . . . . *turns around and talks to their friends again*" LOL
*
*
*
*
BUT THENNNNN!!!!!
EVERYONE GREETED AND WELCOMED ME SO KINDLY!!!! T________T
I met with Malaysian bloggers first and they asked me to take photos with them and even asked me a lot about my blog, my flight, my hair. So many afterwards asked me to took picture together with em I am touched, why u wanna take pic with a crap blogger from Indo T_____T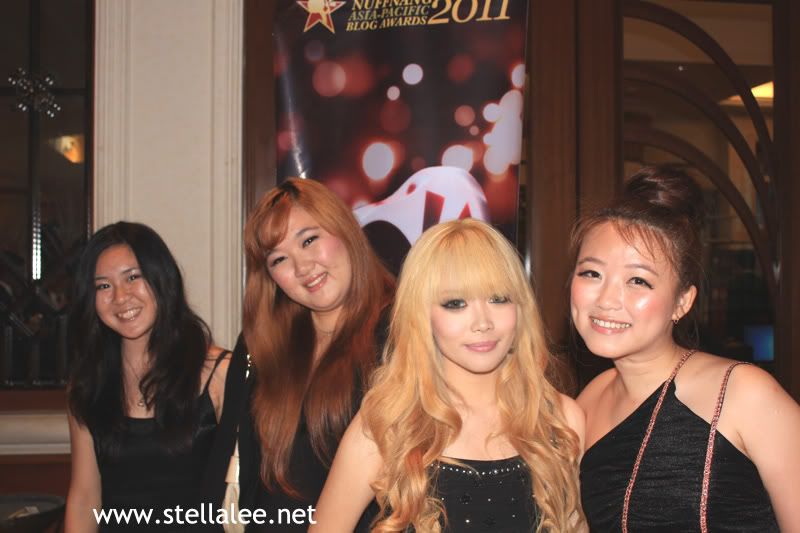 Stomachache gone! For a while! Haha! Sorry I cant remember every single one of you because I have short memory, but I have given em my name card so I hoped they would email me [some already did] and could keep in touch! :D
I also took photos with a lot of other bloggers such as from Thailand, and Sing, but I didn't have the photos with me because using their cams, so yeah :(
And the longer I stay there, the more I see bloggers, of course, 550 people from all around Asia Pacific. Named Malaysia, Singapore, Brunei, Japan, Thailand, Philippines, Australia, Hong Kong, etc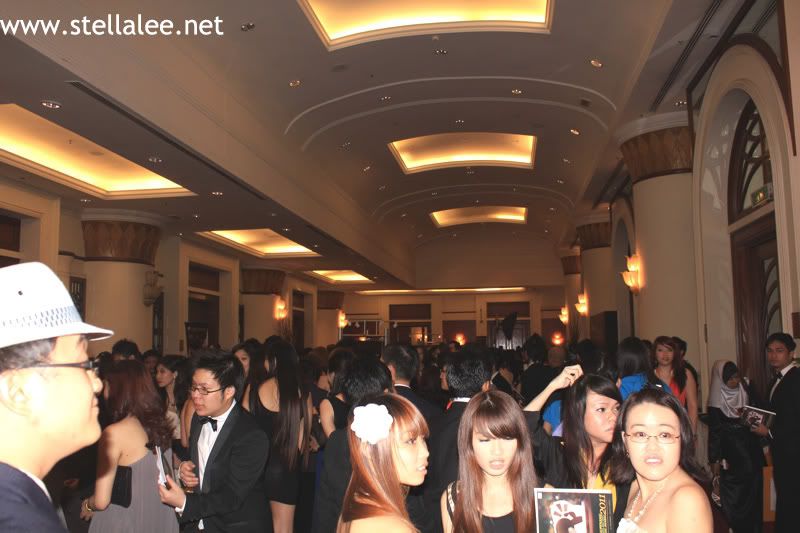 Then I saw someone with pink hair, which of course the super big blogger XIAXUE la! I really wanted to take pic with her but I was super afraid because she's so petite and cute, so pretty, her hair is awesome too! After 15 minutes arguing with malay bloggers whom supported me to take pic with her, I dared myself to ask her, and she was like "sure" kindly! T___T
She even told me why I looked so nervous. well, coz youre so pretty, Xiaxue T____T
Cannot stand up properly next to her! ;_;
Then Malay bloggers told me that there were Cheesie and Aud on the corner, and I was like "WUTTTTT!!!!" So I sneaked out to see em from far away and amazed because they have amazing style and so pretty! Aud hair looks so awesome at that night, love the color and its super smooth! While Cheesie's fashion was really captivating, and I didnt dare to look at em!! T_T
What surprised me is Cheesie is quite petite in real when she looks super tall on the photo! Amazing lor! She has nice body figure and proportions which make all of that happens. So after kept panicking, I asked them, legs shaken, "could I take pic with both of you?"
Cheesie was looking at me and asked "Are you Stella, right?"
O____________O
Aud was like "Oh youre Stella?"
\(O____________________O)/
How could you know!! Then they told me because i have tweeted them before a few times and my hair is blonde, so they remembered. Okay then, thank you my blonde hair, everyone knows me for that *kiss the split ends blonde hair*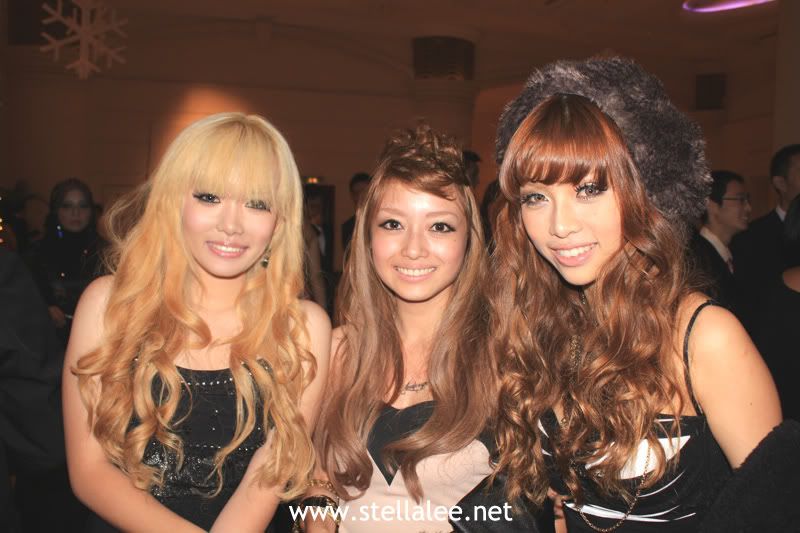 I look shit next to em, PS myself like crazy because I was super nervous and both of em are super pretty, Beauty and the Beast in real life T_T
Movin on, I was still looking for Sochii, then I saw mori gyaru hair from far away, so I approached, and its true! It's sochii yeayyy!
Not as nervous as when took picture with XX and the others lol Sochii is super pretty and skinny! Envy envy! So tall as well! Asked her to lower her body so I didn't look that short
Then I also met other singaporeans, Lenne, finalist for fashion blog, and also Jean. All have good styles, awesome!
OH And I met Ce Leony from ourverydaythings! She's a singaporean nuffnang, nominated for best parenting blog! But know what, she's in fact an Indonesian like me! And Her home used to on same area with my old home!! Well hello there neighbour! XD
Then I met Janice! Mostly known as Chaigyaru! I know her even when she's on her youtube channel s0rmu1. She's really tall and pretty, her dress is gorgeous as well! And she's super kind too, she told me that my lashes almost fell, and even lend me her glue and mirror! T___T Super nice!! And her skin is mad gorgeous, she told me she had never had any acne before, how come! :-S Jealous! lol
Ok why everyone sounds tall in my blog haha, Guess I'm super short then? lol
So last photo is with Xiaxue and Cheesie again, this time I was much more well behaved and calm so the photo turns out better than before! LOL
That night, there was more stories and this is just the beginning, just want to share you a few stories behind the Nuffnang Blog Awards in 2011! And more posts and interesting stories will be coming! Please stay tuned, and have a nice day everyone ^_^u