Benefit One Prime Day Set Review + Swatch
December 01, 2011
It's the Benefit One Prime Day Set, a package full of their mini primers consist of Mini That Gal [Brightening], Mini POREfessional [Smoothing], and Stay Dont Stray [Eye Primer]. Ever since I know about make up primer, I always go look for the best one because it will be the most important key for our whole make up, to stay, or ruin it. Will this one prove it's ability to impress me as well? :)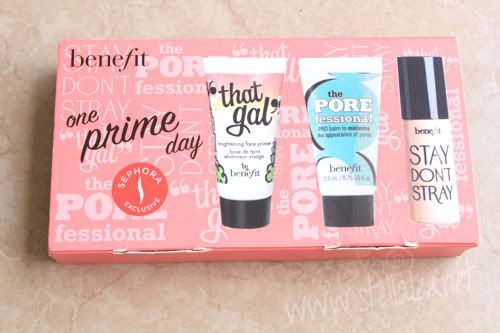 This set of mini primers will set your makeup and have you looking perpetually pretty no matter what the situation. "That Gal" face primer smooths on a brighter complexion, The POREfessional PRO balm minimizes the appearance of pores and fine lines, and dual-action Stay Don't Stray eye primer locks on concealer and eye shadow for all-day wear










This set of mini primers will set your makeup and have you looking perpetually pretty no matter what the situation. "That Gal" face primer smooths on a brighter complexion, The POREfessional PRO balm minimizes the appearance of pores and fine lines, and dual-action Stay Don't Stray eye primer locks on concealer and eye shadow for all-day wear.



It comes with a pretty nice plastic packaging, so you can also bring it when you're traveling, store it on the box and it will look pretty neat! That Gal and POREfessional is 0.,25 oz while the Stay Dont Stray is 0,9 oz. It's really small, but really travel friendly. Try this set only if you want to test them, if you want to keep it for long time, I don't think this set is suitable for you because it will run out after a few uses. Although the Stay Don't Stray may last longer as we only need a little for eyes



Benefit That Gal Primer




A silky pink primer that makes skin appear smoother and brighter.
Prime your skin to pretty - go from dull to darling with "That Gal"! Wear alone for clear complexion radiance or apply before makeup for a smooth, effortless application. Plus you can use it to re-brighten throughout the day.







Benefit POREfessional Primer




A PRO balm that minimizes the appearance of pores. The POREfessional quickly minimizes the appearance of pores. Apply this silky, lightweight balm to achieve translucent pore coverage and smoother-than-smooth skin.










Benefit Stay Don't Stray




A 360 degree primer for concealers and eyeshadows. Tell your eye makeup to stay, don't stray! This dual-action primer works 360 degrees around the eyes to make concealers and eyeshadows REALLY stay put. Concealers never crease and eyeshadows stay vibrant and true…you'll wonder how you ever lived without it!



Swatch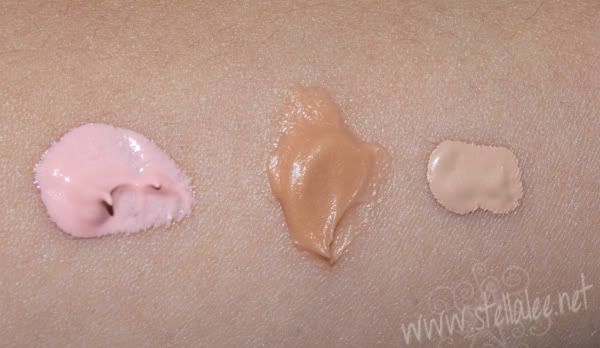 From Left to Right = That Gal, POREfessional, Stay Don't Stray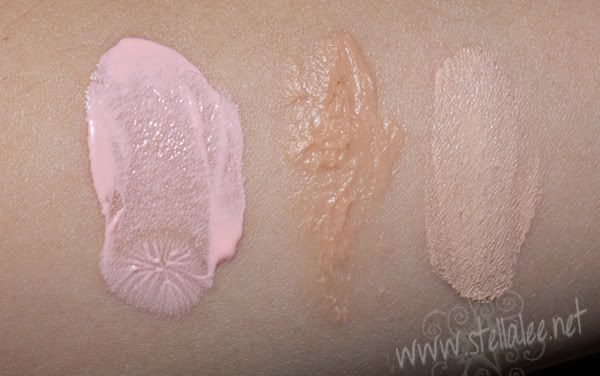 the Pink one is That GAL primer, it's quite watery and its pink color will give your face an instant brightness. You can use it alone, or only use it on where you want your face brighter, such as cheekbones? :)
The middle one in brown color is POREfessional, the texture is quite similar with mousse, super easy to blend and makes face really smooth and cover pores nicely
Stay Dont Stray is a rich creamy eyeshadow, although it spreads really well and it becomes clear afterwards. I havent tried it as concealer but it is said to be multifunctional as concealer as well! PLUS point! :D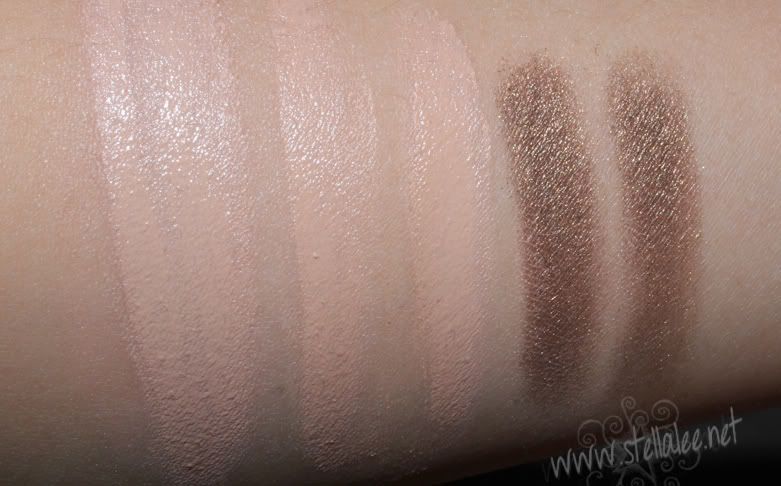 From Left to Right = BB Cream on top of That Gal, BB Cream on top of POREfessional, BB Cream Alone, Eyeshadow on top of Stay Dont Stray, Eyeshadow Alone
You guys can see that the BB Cream on top of That Gal Primer appears brighter and more dewy finish! While when it's applied on top of POREfessional it becomes silky smooth and blends pretty nice on the skin. See when it's only BB Cream on the skin? It's a little difficult to spread on, also it's quite cakey. Please note that the BB Cream is divided equally to give better view of the product
As for the Stay Dont Stray, I don't see any much change about the eyeshadow pigmentation which is supposed to be far more pigmented when using it. Sure it's a little more vivid, but not that much. What I notice is it makes the eyeshadow creasing free all day and easier to apply eyeshadow on the lid. If you're expecting your eyeshadow will POP amazingly with this, I don't think so
Final Opinion
Pros :


Good Value


Travel Friendly


That Gal Primer gives a dewy and bright looking skin


POREfessional Primer makes foundation glides easier and cover pores well


Stay Dont Stray makes your eyeshadow creasing free + can be used for concealer


Affordable


Cons :


Only comes in mini size, so if you want to use it for longer time, go ahead to buy the full size separately


Stay Dont Stray doesn't give much difference about the eyeshadow color


I think this set is a good to try product, so you will get a good view about their own products individually without spending much money on trying the full size. What I love the most from this set is obviously the POREfessional! :-D it makes my skin super smooth and the texture is really light, covers pore nicely too!
Have you found your holy grail primer? :-D