Etude House AC Clinic White-Trouble Bubble Cleanser Review
December 28, 2011
Bubble type foam cleanser melts down wastes and skin trouble inducing substances with micro bubble particles sounds promising to help achieving clearer skin, free from acne. Like everyone else, I suffer from skin problems as well, especially acne during my period or when stressed out.
Bubble Cleansing is widely known for relaxing skin and prevent any skin problems, as it is gentle and friendly to skin. Especially if you suffer from acne or have sensitive skin, this is a great way to keep your skin as smooth as baby's skin! :D This post will reveal you my most favorite current facial cleanser at the moment!
The packaging is in clear green plastic bottle, so you can see how much product left on the bottle. I've used it for about 4 weeks and already used about 1/3 of it, needless to say that the product runs out pretty fast. Please keep in your mind, I use it twice a day for 4 weeks, and only used 1-2 pumps for each cleansing. So I guess a product will last you up to 3 months if you use it regularly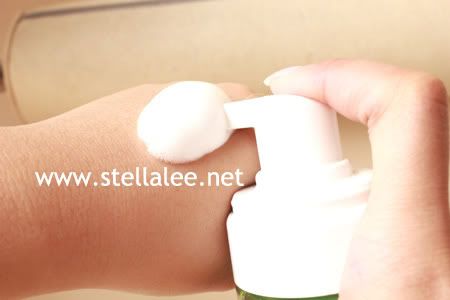 Pump it, and the bubble foam will come out nicely
Application is pretty easy and fun as it is in bubble shape. The bubble cleanser helps to relax skin, as the acne-skin is really sensitive and stressed out, therefore you shouldn't use rich texture or else it will be getting worse. You can add water on the bubble foam, or just use it as its own. It has no strong scent and skin feels refreshed after using, but not tight! Remember, if you wash your face and it becomes tight, it means that your skin has been stripped and causing surface dead skin cell build up, resulting dry skin and wrinkle!
But I feel really relaxed and skin becomes smooth with this cleanser so absolutely fine to use.
*
*
*
*
*
Swatch =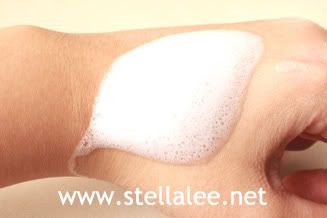 one pump is enough for one face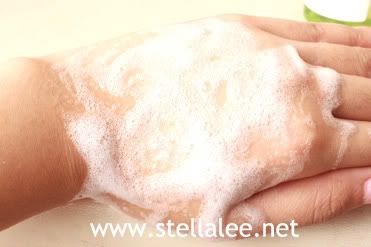 spread the foam in circular motion [you can also add water]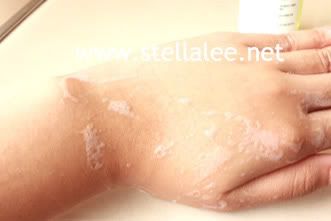 after a while massaging, the foam disappear, so rinse it off, and follow with your regular skin regime
*
*
*
*
*
 The bubble is not dense at all, instead its fluffy and melts on skin, absorbed nicely. It spreads and glides on skin easily
I must admit that I am really impressed by this product as it helps calming my break-out skin and after 2 weeks usage, I can already see the difference as I have no new acne after using it! It does a good job preventing new acne and reduce current acne. Although it takes time, but it gives stable and significant result. You need to use it at least 2 weeks before seeing great change, but even after 3 days I can already tell that my skin is a little calmer and softer! :-D
It promises to help reduce acne scar but I dont see any improvement on my scar. I am sure you need to use other products from AC Clinic Series to get better and faster skin improvement
Final Opinion  :
Pros :


Prevent new acne


Reduce current acne


Affordable


Doesn't make your skin feel tight


Clear packaging


Doesn't clog pores / non-comedogenic


Skin feels refreshed after using the product


Doesn't have strong scent


Comes with pump for hygiene issue


Cons :


Doesn't reduce acne scar


Runs out pretty fast


Overall, I am so pleased with this! The cleanser does an amazing job as what I have mentioned earlier, and I cant see whats wrong with the product itself besides that it runs out pretty fast, which I suspect because of the unique bubble texture. Although I know some have complains that their skin becomes dry after using the product, it doesnt happen to me, but if you're worried, just make sure you slap enough amount of moisturizers onto your skin to keep it hydrated! :)
Will I buy again? I think I will stock one, and use it during my break out / period time when I have a few acnes. It's really helpful and a worth to try product. I get mine from MyLovelySister HERE for Rp119.000 . Not a bad price for a high quality cleanser. Do you know, cleanser is the first step into a great skin, so always make sure that you have a good cleanser which will become your foundation in the future! :)
Do you suffer from Acne too? How do you deal with it? :D