Where to Buy Cheap Bulky China False Eyelashes
December 21, 2011
you all know my addiction for eyelashes, and gyaru needs false eyelashes on their make up, period. Therefore I always have dozens of false eyelashes stocks on my make up wardrobe. Sure Dolly Wink and Diamond Lash and Jewerich, and other jap stuffs are popular and have good quality, but the price is ridiculously expensive also, especially if we buy it online [not from japan directly]
So I always use bulky china false eyelashes when I am sorta out of cash lol and when its going bad, u can always throw it away, when using expensive false eyelashes, we have no heart to throw away that stuff T_T
worry not! Bornprettystore comes in a set for your problem :D
the set is only 12.34USD! including 5 different types of false eyelashes, each box consists of 10 pairs. an eyelash glue, and an eyelash applicator to help you put the lashes on your eyes! What a great deal right :D
So lemme show you the products!
Criss cross false eyelashes, this type of false eyelashes blends pretty nice on real lashes, and it gives quite a volume, though it's better to use this if you want to achieve natural looking false eyelashes. I mostly wear this type of false eyelashes when I want to achieve sweet and natural look :D like popteen models?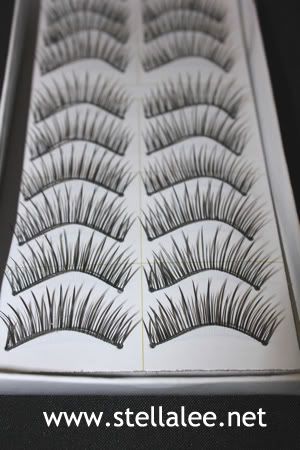 The second type is the long type lashes. it's really long in real life, and it gives mature look. Although it doesn't give much impact nor change your eye shape, it gives feminine feeling and maturity on ur eyes make up :)
The third lashes give a full volume on your lashes, but sometimes it can look a little fake. But it looks gorgeous on photo but the bad point is, the size of the middle and the end of the lashes are a quite similar which makes it quite heavy so it can make your eyes a little droppy and smaller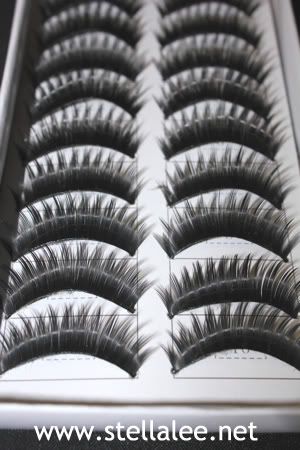 The fourth lashes is similar with the third lashes, but this time it's little bit more pointed, it looks as gorgeous as the third lashes, but the bad point is still same, its heavy. The difference is, it blends better with the natural lashes compared to the third lashes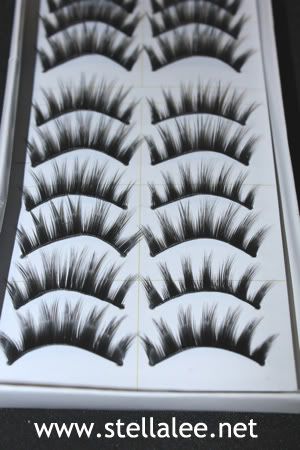 the last lashes is my favorite, it's pointed so it gives my eyes a strong look on the photo and dramatic effect. Looks mad gorgeous on the camera, but can also be worn for night out if you want sexy and seductive look on eyes. Giving your eyes big round looking too. Mad love :heart: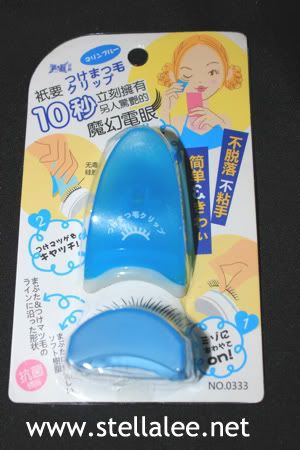 The set also comes with the eyelashes glue [it claims for double eyelid glue too but i use this for gluing my lashes] and eyelash applicator. The glue is a little watery so its kinda difficult to use for beginner. But overall this set is a good deal!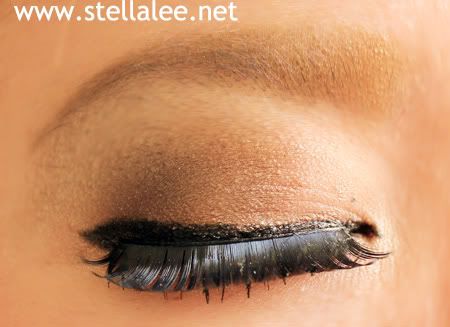 What I dont like about the lashes is it looks shiny on flash photography, as you can see on the picture :-( so if youre a professional MUA or doing flash photography for your blog,  you have to avoid this kind of lashes. But if you dont mind with the shiny lashes, then its up to you
Final Opinion
Pros :


Extremely Cheap! 50 lashes, eyelash glue + applicator for only 12USD!


Comes in many types of lashes


Reusable


Gives volume to your lashes


Blends nicely on real lashes


Cons :


Some lashes are heavy on eyes


Looks shiny on flash photography


Will I buy again? For sure, although I do love my expensive lashes but I have no heart to use it everytime I go out, its just, too expensive, I'm still a student lol so bulky china lashes is my favorite for just a night out. If I have to meet important people or attend big event, I will use my expensive one, but for daily basis or common party? NAH~~ probably if I were rich I would! lol
You can buy the set HERE and if you use coupon code SLK31, can earn 5% discount as well, super cheap right!
Do you prefer china lashes, or expensive lashes? :)