L'Oreal Paris Indonesia Beauty Workshop
February 15, 2012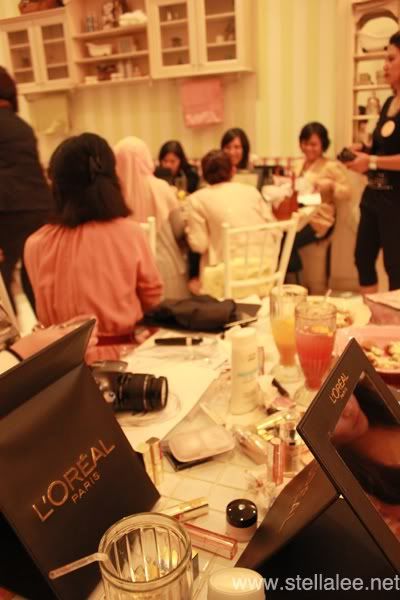 Last saturday I was invited to L'Oreal Paris Indonesia Beauty Workshop that are located at Nanny's Restaurant, Pacific Place. This is the first time I attended L'Oreal Beauty Event, And aside me, there are a few bloggers that I've met before such as Hanna, Nisa, Cicil, and Desi from Livingdaisy ^_^ If you're interested to see what the workshop looks like, read more! :D
So last Saturday is probably one of the busiest day in my life *lebay*. In the morning I had a plan to have breakfast with my high school friends, but I ended up going to my school first because a teacher's child of mine passed away, so to show our condolences, we visited and also gave some money to him. But unfortunately he wasn't there so we asked the principal to give it to him :( Then me and my pals went to eat noodle for brunch. Awesomeness!
I had a junior high school gathering with some friends of mine at Grand Indonesia. As I reached home, I noticed that I was late in meeting my friends who are supposed to pick me up, and the thought I decided to not join them, so they left me T___T So I had to go there alone T___T
Awesome reunion, and they were kind enough to accompany me to Pacific Place. But the traffic was bad [as always] so I came up late :|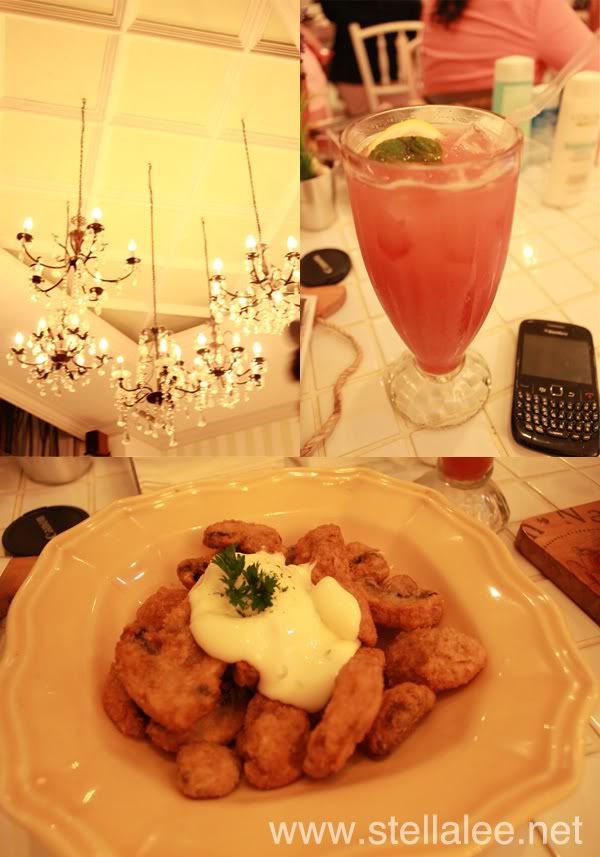 As I came there, I was served by a strawberry juice and a chicken appetizer. But seriously, who really cared about the food when you have all the make up products in front of you, ready to be used !!! O___O lol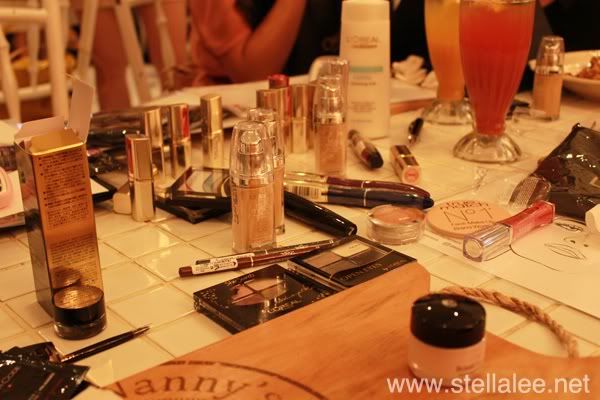 Some of the products on our table that we can try and use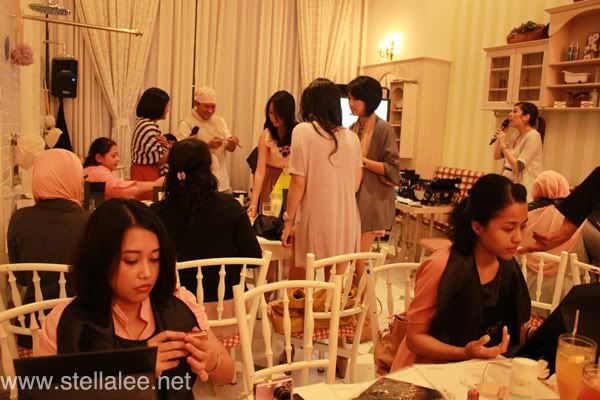 L'Oreal Make Up Artist taught us how to use all the products, the good, and also demonstrate it on model. Unfortunately I think that the venue isn't that suitable for demo because the tables are separated and they are quite far from us so I couldn't see clearly. I was at one table with Nisa and Cilla [who came up late because of work], and Cilla is kind enough to take my vain photos LOL she always gets amazing photos of mine. Wonder how can she do that??
Pretends to look sophisticated #FAIL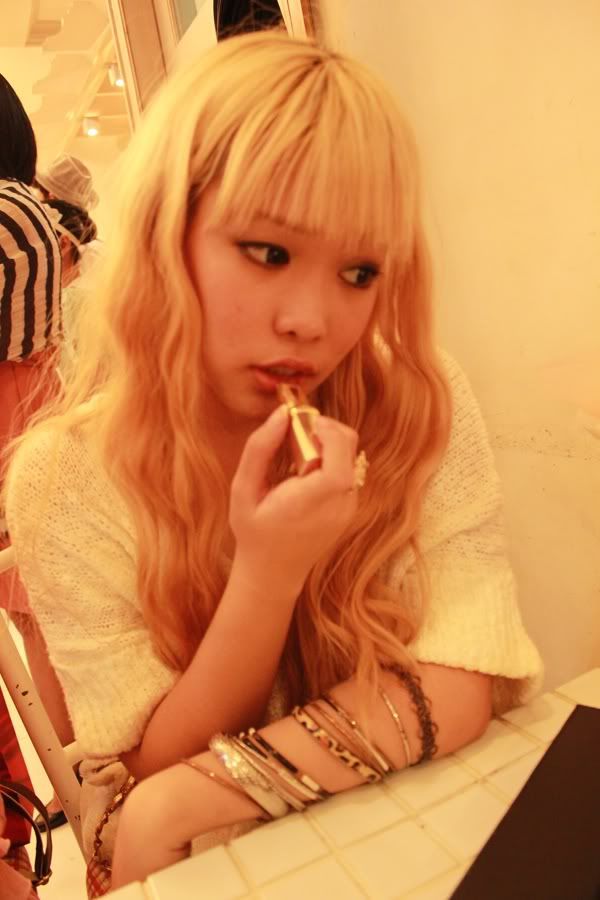 Trying to look like Angelina Jolie #FAIL
Oh yes, I tried wavy hair at that day. Probably I will make a tutorial how to achieve that hair style, as it's pretty easy! o_o If you like the hair, please tell me :)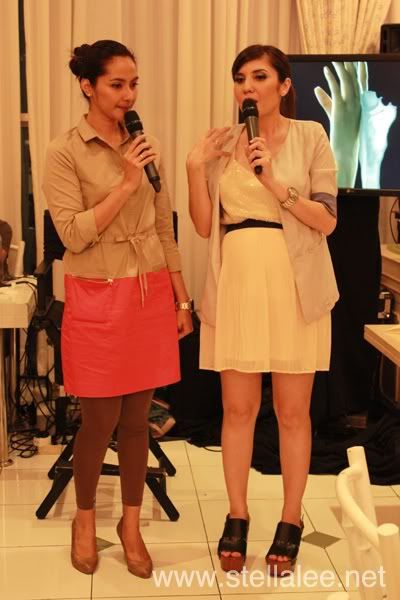 L'Oreal Beauty Ambassador, Maudy Koesnaedy was also there!! She's so pretty *___* and tall. and her eyes and nose are gorgeous arghh!! I said to Nissa that I wanted to take picture with her, but I will look ridiculous and ugly next to her, not to mention my height, so I threw the idea away LOL #notconfidentenough
And anyway, in the end, the MUA and MC told us that they would pick 3 best make up and one best dress. I didn't really put much effort on make up that day, especially because my friends were waiting for me, so I didn't try much L'Oreal products. Though, I'm impressed by the Eyeshadows as it's pigmented o_o Then they mentioned Hanna won! Woohoo!! I knew it! She's really great in eyeshadow. Then another winner, that I'm sorry that I don't know your name ;(
Then when Hanna got back to her seat, I was NORAK enough to scream at her happily, "congratz congrats! what gifts they gave to you? Lemme see Lemme see!" LOL and suddenly the MUA told me, "ok and our next winner is this miss Japanese"
o______O;;
I was like, "err.. seriously? No Idea!"
Cilla helped me to take the photos, and I was still in shock coz I didn't expect it!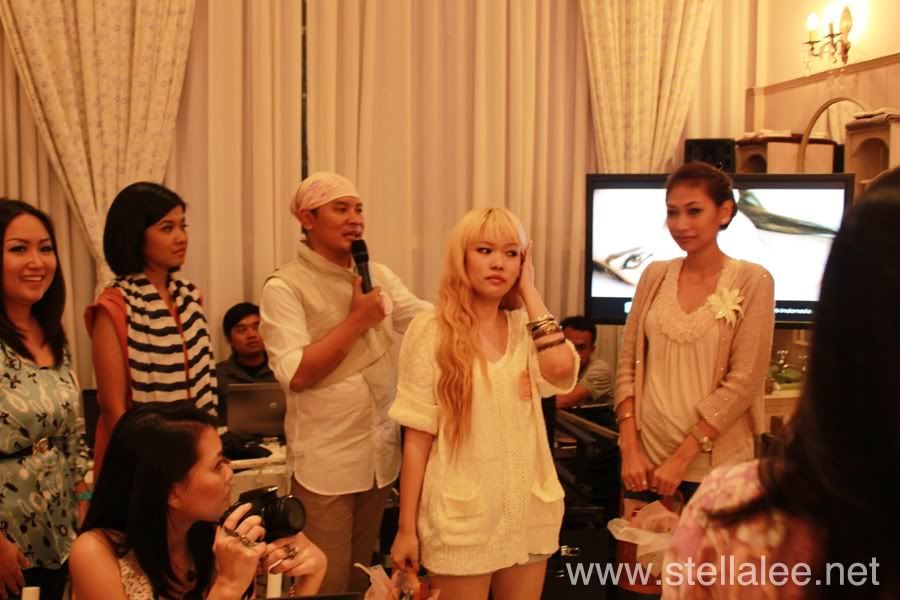 You can see my awkward arrogant face o__O when I feel nervous, I look so arrogant LOL Still in shock state o_O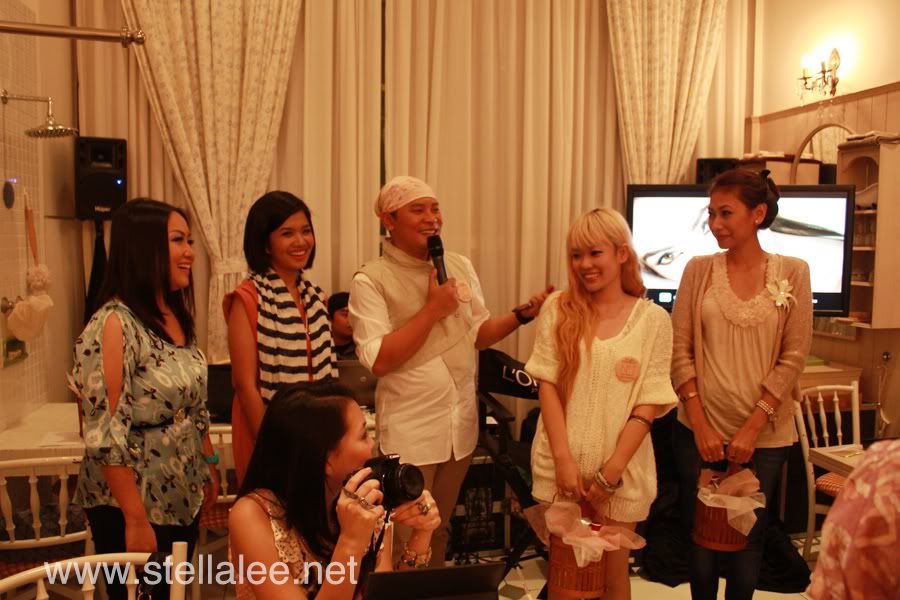 So this is me and Hanna's winning picture! OMG I look so short even though I used 10 cm heels at that time *facepalm*
Thank you for L'Oreal Indonesia for picking me as best make up! ;) And thank you for inviting me as well!
Oh oh! I also got interviewed by Fimela's staff, and she said she would publish it on their site soon. Woahh, cannot wait! Why I got interviewed and photos taken when I didn't put effort on make up at that day, whyyyy T___TÂ  Lesson learned, always make sure you're ready to be taken photos anywhere anytime!
And because my friends' had been waiting for me, I had to leave earlier and skip the dinner and group photo .__. I was kinda upset but I couldn't let my friends waited for me longer so yeah. I wish there would be another event from L'Oreal, and I would be more happy to attend it again! :D