Lancome New Counter Opening Celebration at PIM
February 19, 2012
Lancome has renovated one counter of them again and this time is located at Atrium Sogo Pondok Indah Mall. Again, they invited us to come over and play at their counter. It's during last Valentine Day, and my friends were kind enough to drive me to there. Took me 2 hours to reach there because my home is so far away from the venue -_-)/ Well, at least my valentine day is not #foreveralone !
I am still mastering this wavy hair and trying out a lot of different methods to achieve that perfect wave. I know some of you have asked me to make a tutorial about it. I WILL! Soon! And btw my skin is at it's best condition. I have no acne atm though you can still see some acne scars left on my chin and cheek. But I cover it with make up and look okay. No skin editing! haha
You can see that I wear less and less make up each day -_- that's because I'm lazy hahaha
FOTD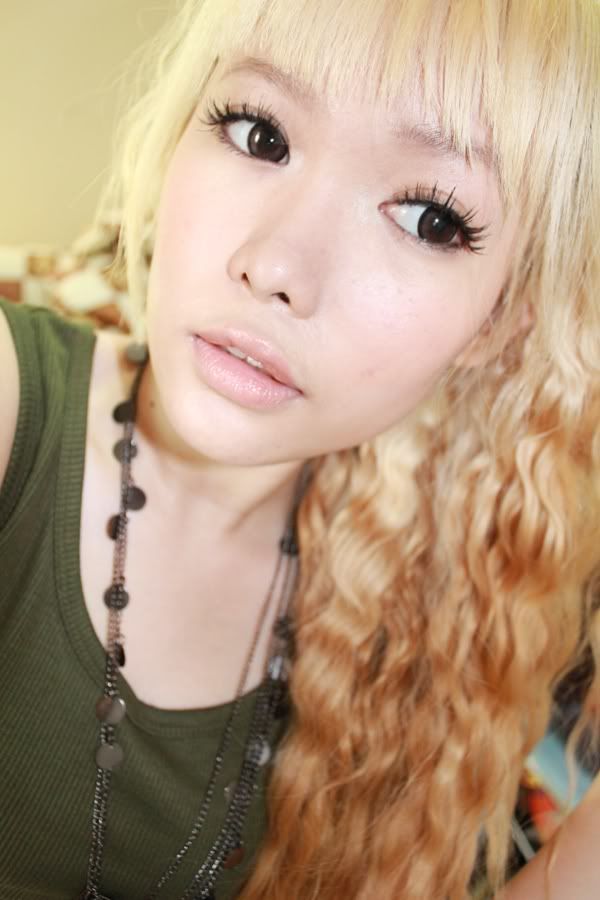 FACE =
Kanebo Lunasol Water Cream Foundation in OC03
Lioele Mix Concealer [review soon!]
NARS Loose Powder in Flesh
EYES =
Geo Princess Mimi / Bambi Series in Almond
Dolly Wink Liquid Eyeliner in Black
K-Palette 2-Way Eyebrow in Honey Brown
Canmake Duo Eyeshadow [I use only the white shimmery eyeshadow on my inner corner]
L'Ancome Virtuose Mascara
Diamond Lash False Eyelashes in Angel
CHEEKS =
Majolica Majorca Puff de Cheek in OR302
LIPS =
Etude House Bee Happy Lip Balm
Coffret D'Or Rouge Lipstick in BE-176
You guys can see that I didn't even bother with eyeshadow. Just eyeliner, and false eyelashes. Super simple. At that day I have awesome eyes! I woke up with both of my eyes have natural double eyelids! I usually have them too. But sometimes on big day, I have one double eyelid, and another one is monolid. Therefore I have to use double eyelid tape to even them out. But at that day, my eyes are naturally big without help of double eyelid maker! LOVE ;D
*
*
*
*
Upon arrival, I was still mesmerized by all the Lancome products there. Make me want to bring all of them home!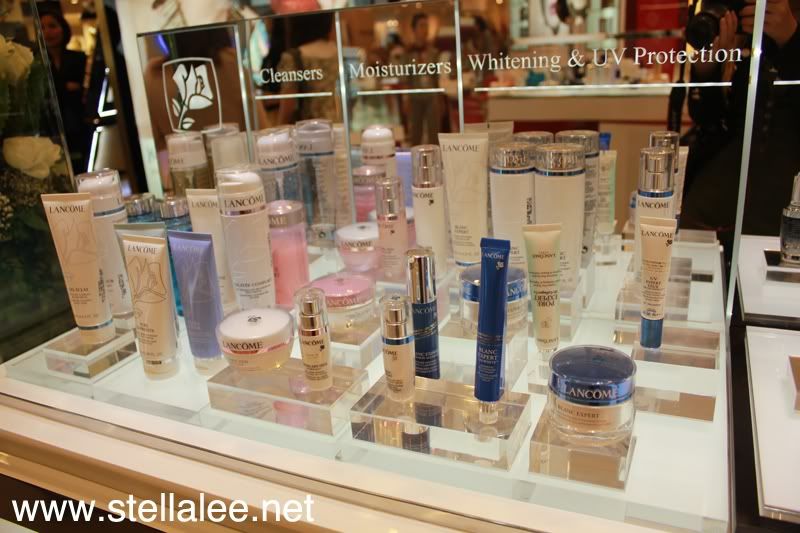 Here are just one section of their products!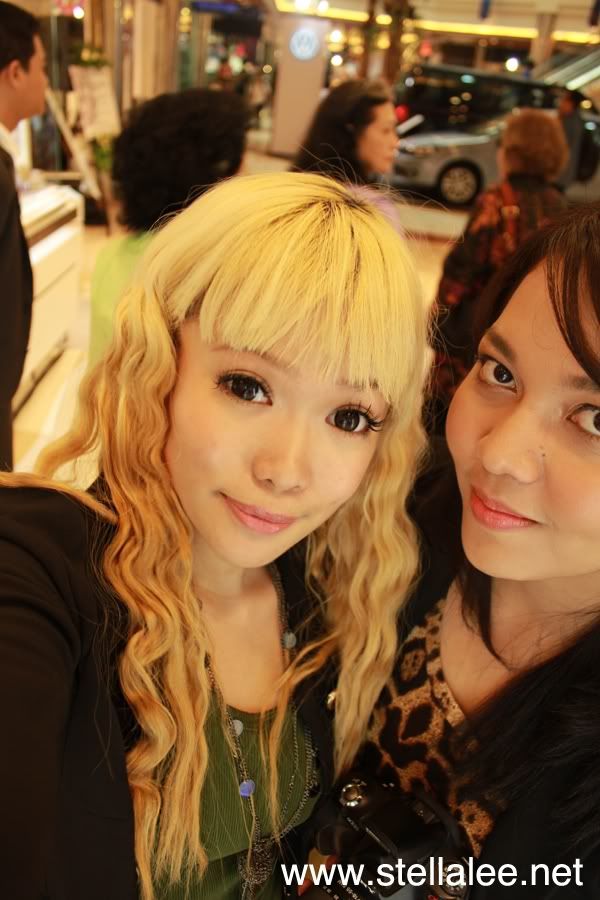 Managed to take photo together with Hanna. Sorry Han that your face is a little cropped, that's because another photo is blur :(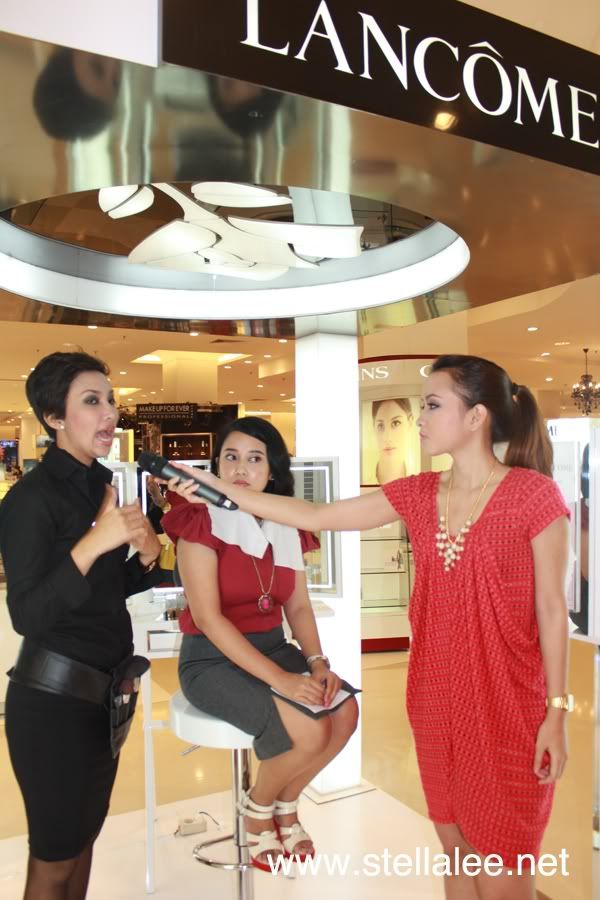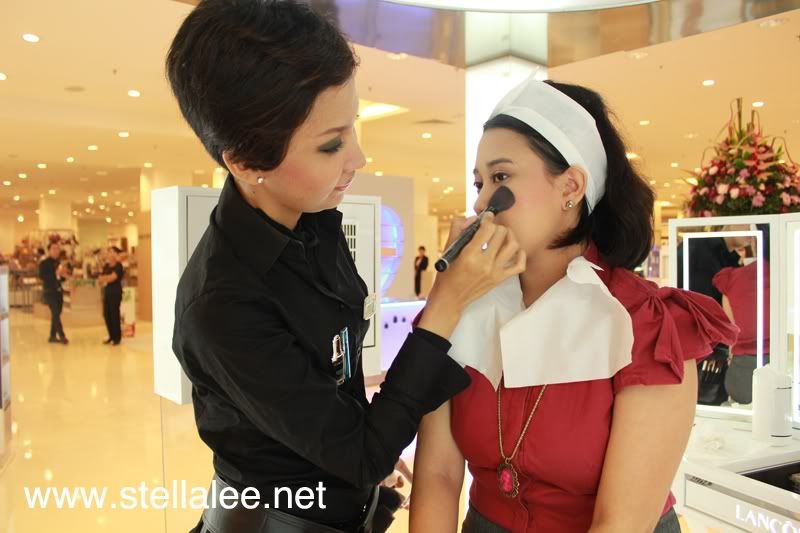 Here we also have demo make up provided by Lancome and Nissa becomes our model at that day. The MUA gave us tips and trick to look gorgeous using Lancome products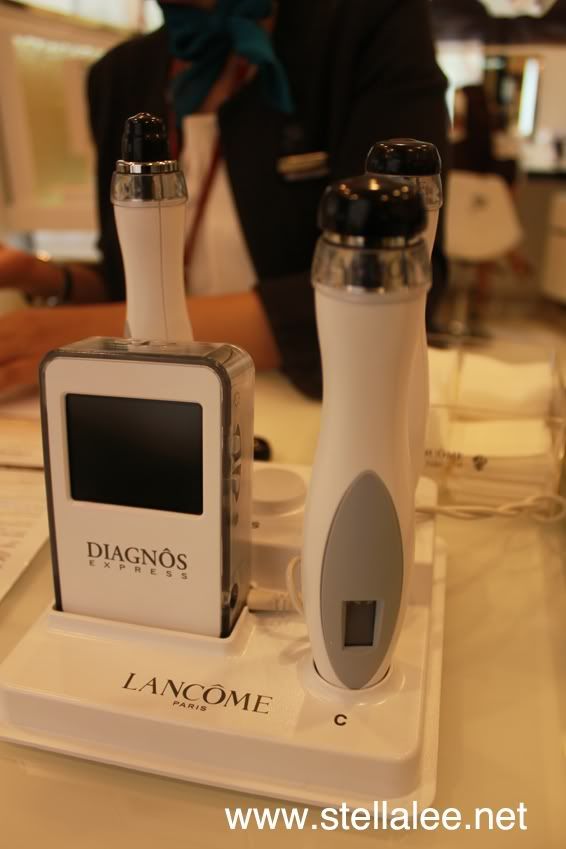 They also have a section where you can have skin consultation with their machine. Therefore we will know more about our good and bad, and also which products suit our skin the most. They will check about your wrinkle, hydration, oil, and so on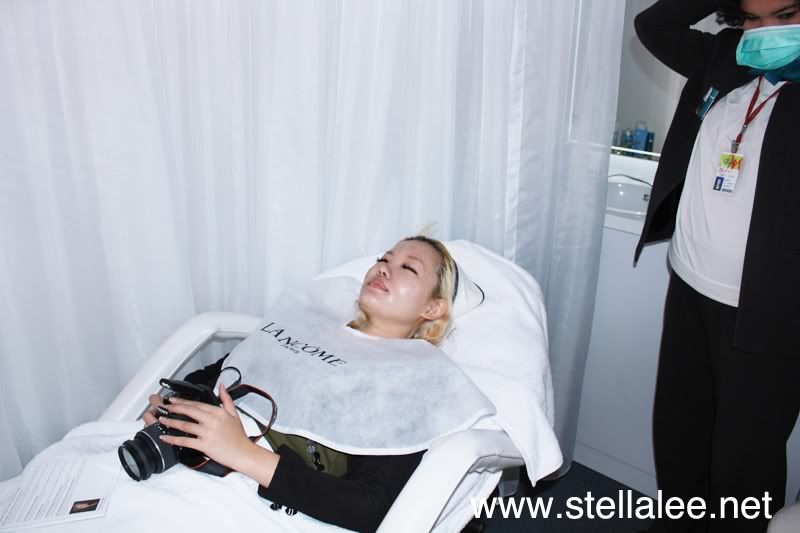 Special privilege if you are their VIP Member, you can have free facial from Lancome anytime you want! Their facial consists of 3 types, and I choose the Hydra Zen facial because it's so moisturizing and I love that line! The duration is only 30 minutes and their booths are only located at 3 locations atm. PIM 1, PIM 2, and also Mal Taman Anggrek. You can become their member by purchasing Rp 1.000.000 and receive so many advantages and free stuffs by becoming one
Facial from Lancome can be booked through RSVP at any counter available
Gotta say that their facial is really calming. I feel my skin becomes so radiant, moisturizing, and healthy! Products are all from Lancome of course, you also can do your make up using their products again afterwards if you want to go somewhere again. I decide to only use foundation, eyebrow pencil, and lipgloss because I dont want to put heavy stuffs anymore, yet I still gotta hang out with my friends
After that, I went out for watching movie and eating at Pancious with my friends. My battery died so photos are only on my Iphone and my friend's Galaxy Tab. Well, it's not that important either so I decide to not put it here haha
What did you do on last Valentine ? :D