How to Use Koji Eye Talk and Review
October 23, 2011
Having bigger and deep set eyelid is what woman commonly wants nowadays. I normally use double eyelid sticker for daily basis, but mostly it doesn't work for monolid. If you're white, or arabian, or Indonesia, or whatsover, you probably already have deep eyelid. But mostly mongoloid race such as Japanese, Korean, Chinese, dont have it. Koji Eye Talk is the most popular eyelid glue to make your eyelids bigger! The product is sent to me by MyLovelySister as a review purpose !



Koji Eye Talk double eyelid maker creates natural and beautiful double eyelids.It contains moisturizing plant generated ceramide and skin tightening Rose hip extract.Great for beginners for making double eyelids.  To have charming eyes, this one definitely is the one you are looking for, it helps to define your eye lid perfectly. This Eye Talk Glue contains moisturing ingredient rosemary extract, which moisturise your skin around eye area. It is transparent in color after application.



The product itself comes with a pink plastic packaging, the product packaging is plain pink and white color and honestly it looks cheap. It comes with the Y stick to help you create the bigger eyelid, which can be attached to the product so dont be afraid to lose it :-D You can also create different types of eyelids as you wish. I love no 1 because it has biggest and deepest eyelid in my opinion!
Truthfully my eyelids are uneven. My left one is double eyelid, while the right one is sometimes double, sometimes monolid. So this is my right eye when it's monolid :-) I believe the before and after will be more visible with it!
How to Use Koji Eye Talk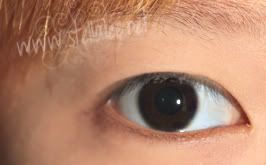 Make sure that your eyelids are clean and not greasy. You can wipe it off with cotton pad first
Use the Y stick to measure how deep you want your eyelid is [usually it's 4-5mm from your upper lash line]
Apply the glue on the lid. I choose to create a half oval shape on my lid, you can try other types as well
Wait for 1-2minutes until the glue becomes clear / transparent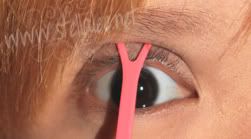 Close your eyes and lightly push your eyelid upward, then open your eyes slowly
DONE!
*
*
*
*
Eventhough it can create a deep double eyelid, I find that it doesnt work as well on the double eyelid. Usually I want my double eyelid to be deeper and bigger la, but this product can't really help to create a bigger double eyelid if you already have one. So I can say that it only works great on monolid. if you want bigger double eyelid when you already have it, don't bother to use it because it wont give you promising result. Also when you close your eyes, people can tell that there's something on your eyes
Also the difficulty level is somehow medium, because you need to practice to get used to it. Can't go well with one try la, just learn it. But I find that it's the best eyelid glue I've ever tried so far. I tried Etude House 66 Big Eye Line Charm and it doesn't create eyelids as nice as this one, also somehow its failed wtf. But yet, since I have oily eyes, eyes got watery easily too, it doesn't stay long on my eyes. Probably only 2 hours. So make sure to keep your eyes matte whenever you use it ok!
Final Opinion =
Pros =


Works well to give deep set of eyelids


Affordable


Easy to use


Easy to purchase


Can create variant types of eyelids


Cons =


Cheap packaging


Doesn't last long on oily eyelids


Only work great on monolids


But overall, this one is a great product for every monolids out there who want to have bigger and deeper eyelid! Because somehow eyelid tape can be too shiny, and eyelid fibre is expensive yet difficult to use. By practicing a few times, I'm sure you can grasp how to use it well. The key is practice!
For those of you who live in Indonesia, you can purchase Koji Eye Talk online through mylovelysister HERE
How about you? Do you have double eyelids or monolids? :-D Are you impressed by Koji Eye Talk as well?