My experience in going ash blonde
October 27, 2011
I seriously want to have light ash blonde like Yumachi, so I decided to bleach my hair again, after stop bleaching it for the past 2 years. You all know that I DO have obsession with Blonde hair, as I also adore gyaru styles. So yes, this is my experience, may not work for you though! And I warn you, this is such a long long post!
I decided to divide the coloring process into 2 days, as I dont want to damage and stress my hair that much. I thought Day 1 would be bleaching, and Day 2 would be coloring. Is that true? Let's find out la
DAY 1 [THURSDAY, 20 OCT 2011]
This is my hair before, its a warm light brown color. As I stopped bleaching it, it's the lightest color that I can get by only coloring it. The roots has already grown. And hair is pretty long already! :-S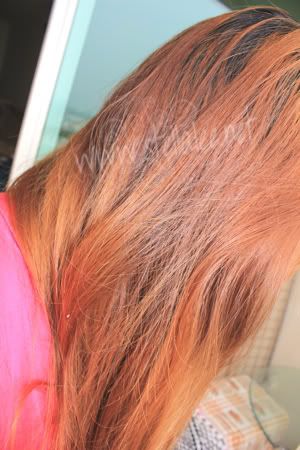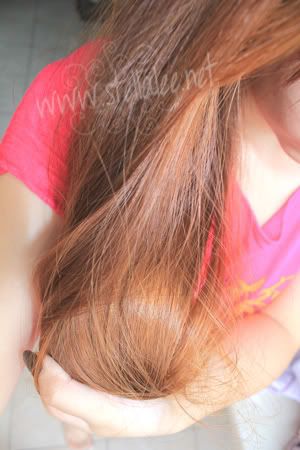 Then I used Diosys bleaching powder, mixed it up with IDA Developer in Level 40 to lighten my hair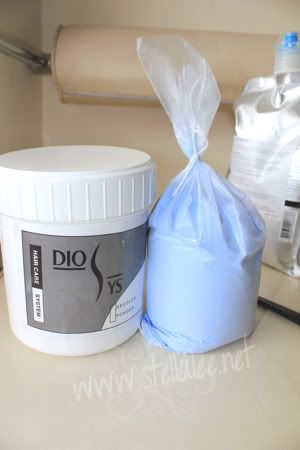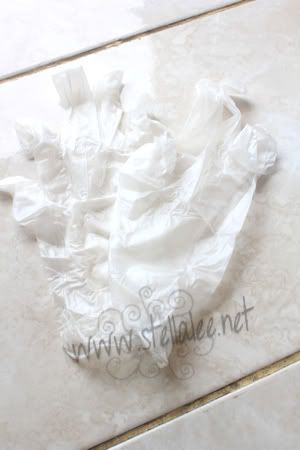 wear gloves is necessary!
And I mix it with Ratio 1 : 1 on a plastic container box, then mix it well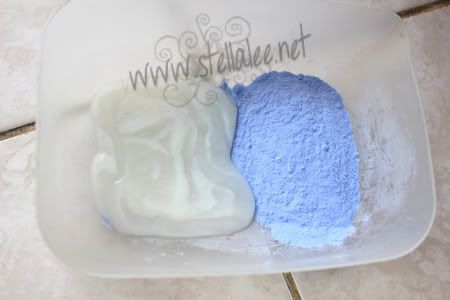 How i bleached hair is simple. Divide hair into 3 parts, top, middle, and low section. Start from the lowest section first and work my way up, as the top part is the fastest section to get lighter, so in case you want to make your top part lighter than the rest of your hair, DONT start from the top!
I bleached hair 2 times to get this annoying light orange color. I wait 45 minutes for each session. I thought it would be changed from annoying to ash by coloring it :-S So I call it a day
*
*
*
*
Day 2 [Friday, 21st Oct 2011]
I used Alfaparf Hair Color in Natural Light Ash Blonde, bought 2 boxes coz one wont be enough for my long hair. And I mixed it with IDA Developer in level 20 with ratio 1 : 1,5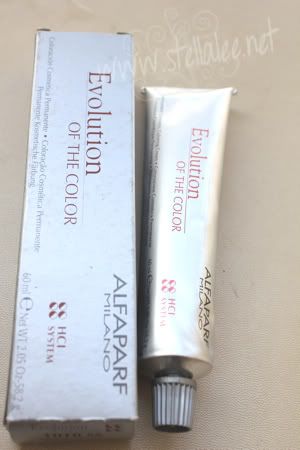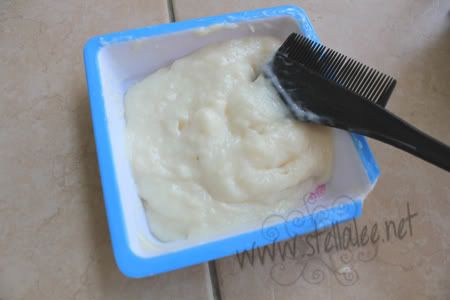 Then I started applying it again all over my hair with the same technique like I bleached my hair. Left it for 45 minutes and rinse it off after used conditioner. And this is the result that I get, still an annoying orange color, and I believed something's wrong because this is not the color that I'm supposed to have! I never got ash blonde so I had no experience, therefore I was really confused by it. At that time, I called the master Monica to help me lol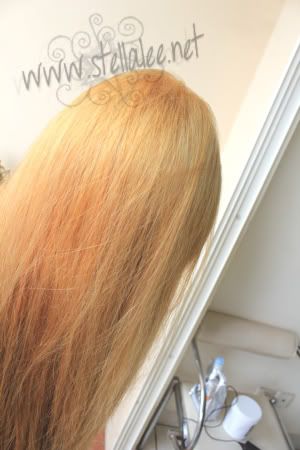 Monica is really kind and helpful. She told me that I still had so much red tones on my hair, which is really difficult to get rid off from Asian hair, suck to be asian! :no:
So she said I had to bleach it again like 2 times again, and I was like O___O|| Because on Saturday I had to attend an event and I seriously had no time anymore, so I was in panic and she tried to calm me like a really good sister! lol :heart: and she's trying her best to help me and find the solution. But yes, I bleached my hair again afterwards. Waited for about 30 mins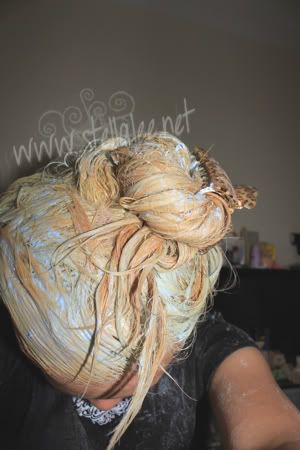 no make up lol
Monica said that it's pretty light already and I couldn't bleach it anymore because mom suddenly cried and screamed 'SKIN CANCER' O__O||| she's afraid that im gonna die, oh well... *shrugs* O__<|| Monica said that's its much better than before but I was really, doubt about this hair color, simply because its too yellow and too light! I dunno la! the feeling at that time was just so complicated because I was in panic! Then I decided to not care, until the night came, I looked at BOXES of Palty Hair Dye on my wardrobe. And the lightest one that were still left is Palty in Milk Tea Tart, which is an ashy color, but the result on the google showed warm instead of ashy color on the box
I had used my Alfaparf hair dye in ash blonde and only a little amount of leftover which couldn't be used to color all my hair. I then gambled that even though it's warm, its supposed to be much much more decent than the color at that moment. So when my mom's out, I sneaked to the bathroom and dyed my hair in a rush!!!!! ><;;;;;;;;;Â  Then I left it for 30 minutes, Used 2 boxes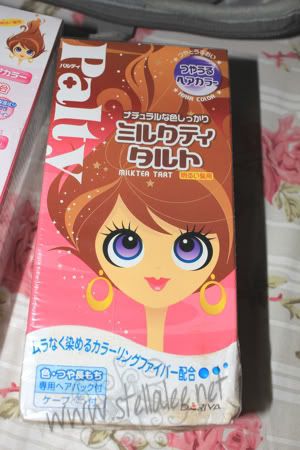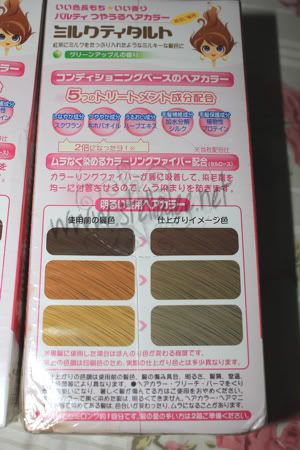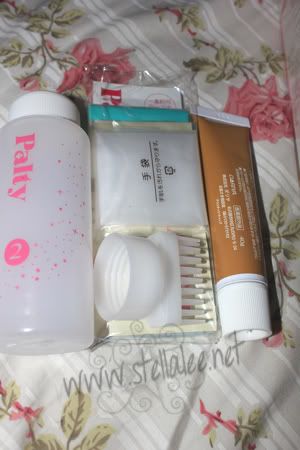 *
*
*
*
And this is the final result!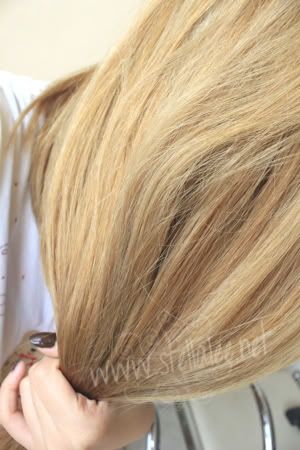 Even though it's not ashy enough, I think that it's much much more decent and pretty compared to before! Seriously, Palty saves my life la! T_T :Cry:
It shows more ash compared to warm, and I dont call this a success but afterall I've tried. Mom said that if I really wanted to get the color, I should just go to salon, but seriously, so far I've gone to salon, none can give me the exact color like what I want it to be. Probably because they are not great in coloring to achieve light hair (?), and so far I know Shunji Matsuo doesn't take bleaching because they don't want to ruin their customers hair. Blablabla, so many excuses
I'll keep dyeing my hair by myself until I find a really GREAT salon. And if you ask, no, I dont really cut my hair at salon, just do it by myself or by my mom. Can you say that I'm not a salon-fan, eh? :-p
So if you ask me, do I like my new hair or not? Well, I actually not dislike it, but I think I'm gonna change the color a few months again! And if you ask me whether I recommend it to you, no I dont. Bleaching damages your hair, and if you cant take the risk and treat it properly with all the hair treatment products, it will ruin your whole look. Pricey I must say. I don't think I can comb my hair if I don't put all the hair products on my hair, lyk seriously! Once I forgot to use the conditioner and serum for hair, then it's all tangled! I couldn't comb it after 5cms below the root
It takes time, money, and attention. But if you're willing to, go ahead! Being blonde is fun, yet risky :-D