EOS Lip Balm in Summer Fruit Review
November 04, 2011
Say hello to my newest Sponsor, BeautyofDiva ! A website based in Indonesia that sells authentic guarantee western beauty products and fashion items! They sent me some products to be reviewed, and now I'm gonna rave about EOS Lip Balm that I had been waiting for so long! It's so famous in United States and been raved by so many! Why don't you try it as well? ;-)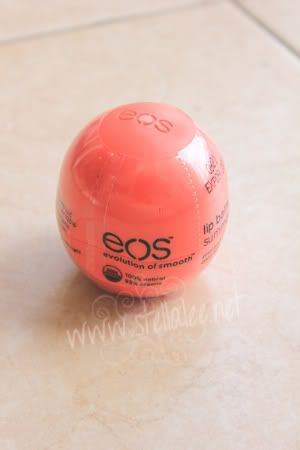 EOS is a long lasting moisture lip balm that smooths on clear and is 100% natural & 95% organic! It's also paraben free so worry not to get your lips darken
I got the most popular one which is Summer Fruit! The packaging is uber cute and handy. It's quite big compared to other lip balms but it's steady because the bottom part of it is straight, therefore you can put it on your vanity table without it rolls anywhere.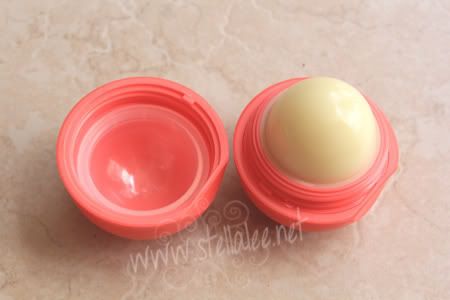 When you scent the product, it's just so sweet and make you feel like eating it coz it looks like pudding imo lol. The lip balm glides easily on my lips and it gives a sweet summer fruit taste like a candy! I cant stop licking my lips because it's soooooo tasty! And it also makes my lips super smooth without being too sticky/glossy.
The flavor comes in many options, You can purchase the product at BeautyofDiva for only Rp 60.000. Quite affordable and its much much cheaper than any other online stores. Try lemon for fun flavor, and If you don't like fruit, you can also get minty?
Final Opinion :
Pros :


Affordable


Comes in many flavors


Glides easily on lips


Smooths and moisturizes lips


Cute packaging


Cons :


Packaging is quite big compared to other lip balms


I'm afraid when it's about to run off, it won't glide as easily as it's firstly opened


Overall, I'm pretty impressed with this lip balm. I bring this everywhere I go now and I'm planning to purchase some in the future, and also interested to try their other flavors as well! I must say, you have to try this one or you will regret it! :-D
How about you? Are you interested in EOS Lip Balm as well? :-)