OPI Animal-istic Review and Swatch
November 17, 2011
Received an OPI from DuniaKutek which is OPI Animal-istic and I'm pretty excited as I'm really into RED these days! :-D The product is from their latest collection, The Muppets Collection!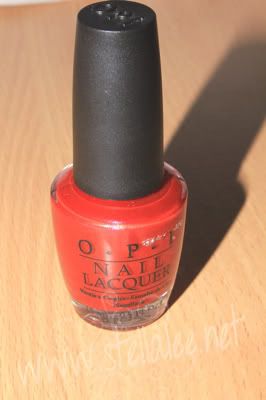 As usual it comes to my place safely as the staffs carefully wrapped my package with many bubble wraps and newspapers to avoid broken products. Never have any problem so far with the store! I can wait the product arrives without worry! :-D I thought it was just an ordinary red nail polish, but I was WRONG!
It's a lovely Vermillion Red color, a red with a hint of orange, which is seriously GORGEOUS! If I say it, I mean it! It has shimmery effect so it sparkles under the light and gives a really glamorous result!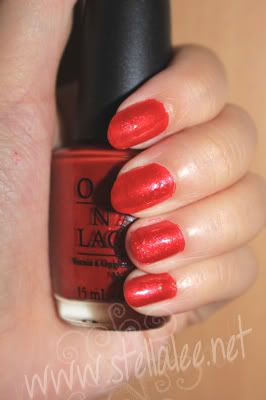 The color in real is much much prettier than this! My stupid camera cannot take the shimmery glossy effect resulted from this product! T_______T
The color is really vivid, I only need 2 coats to get the perfect red. Even if I only use 1 layer, it gives a nice sheer shimmery red look! I wear it to my campus and it attracts attention but not that much! Like, you know, when you use bold color people will go O___O|| but with this one, people praise it a lot as its mad pretty! Ah seriously *kiss my nails
If you ask me how much I love this one, I LOVE IT SO MUCH! I dunno leh why it's named Animal-istic, probably it colors look like blood? But it looks pretty so its totally fine! LOL
I can see myself wearing this nail polish for CHRISTMAS :heart: its totally gonna rock the day! Or probably Chinese New Year? :-D
If you're bored with your usual matte nail polish, gotta try this one ok! It sparkles like stars if you look at it closely! Very pretty indeed :-* You can get it from DuniaKutek HERE ! Price is cheaper compared than buying in counter, also it's authentic guarantee!
What nail polish color are you into right now? ;)