The Skin Food Choco Smoky Eye Palette in 02 Warm Brown Review and Swatch
November 14, 2011
Who doesn't love Smokey Eye? Especially Brown smokey eye, it compliments almost every skin color and look so gorgeous. When I knew that my sponsor MyLovelySister carries it, I was hypnotized by how classy the packaging is and wanted to review it. Although in fact, I'm pretty skeptical as usually Korean brands don't produce great eyeshadows
First of all, the packaging is really classy and the glamorous handwriting font makes it look elegant. The product is quite long compared to other eyeshadow quads, but it's still handy enough to bring it anywhere you go as it slips perfectly on any pouch. Sleek, long, and thin describes this product nicely :-)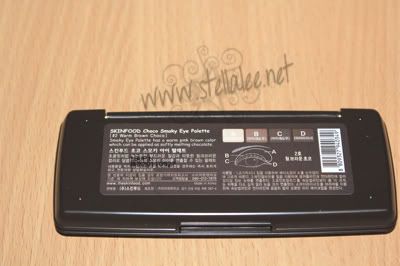 On the back of this product, it comes with the ingredients and direction how to use it for beginner. You may use it on different way but I think having a graphic about how to use it correctly is a plus point as it thinks about beginner users as well! Although the direction is in Korean language, but the graphic makes it clear so even though you dont understand the language, you can still follow the steps!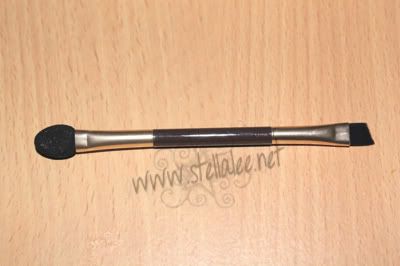 The brush comes with dual-ended brush. One is the ordinary sponge tip brush, while the other is an angled brush to line your eyes with the gel liner from the palette. I love the angled brush as its really soft but I wish they would make it thicker so it would pick out much product
The product comes in two colors. 01 is Cool Brown and I picked 02 in Warm Brown instead. You can see the product HERE . Completed with a mirror, this product is really travel friendly and has been my favorite product so far on the go! The colors are all really beautiful and you can't never go wrong with Brown / Earthy color, right? ;-) The right side is a gel liner in brown so you dont have to bring your eyeliner anymore when bringing this product!
Swatch
This product is beyond my expectation as it delivers a really great result. The texture is soft and it's easy to blend them. I'm not a fan of shimmery eyeshadow but this one is gotta be an exception as it's gorgeous without looking 'too much' like a disco ball. I over estimated this product as I'm tired with so many eyeshadow palettes from Korean brands that don't give me nice pigmented result.
All the swatches are without eyeshadow primer under. I love how darker the color, the more intense the color will show up under my skin. It's blended easily, and the color pops up really nice. What I have to worry is this eyeshadow a little falls out, so I have to apply it carefully and dont pick out too much color from the product
Final Opinion :
Pros :


Classy and sleek packaging


The colors are vivid and pigmented


Comes with dual ended brush


Travel friendly


Comes in graphic tutorial


Easy to blend


Cons :


The price is a little pricey for an eyeshadow quad


The eyeshadow may fall out a little


The product is Rp 165.000 in Mylovelysister and you can check it out HERE. I think that its kinda pricey for an eyeshadow quad but you get nice packaging and great product. 3 eyeshadows and one liner in one package, I wouldn't say no for it. But again, it depends on your option to judge the product and see whether this one worth a try or not! :-)
But for me, this is probably one of the best eyeshadow quads I've ever tried so far!
How about you? Do you think that this product is as sweet as melting chocolate? ;-)