Bobo 3 Tones Brown Circle Lens Review
January 19, 2012
It's been long time since my last circle lens review, sorryyy!! My eyes got allergy and became sensitive so I didn't wear lens that much T_T But now I'm back with a lens to review sponsored by Gallover :D
This time it's Bobo 3 tones in Brown which looks like my Vivian Lens before wearing it on eyes, hmm. Let's see how it turns out! :D
Actually I've never heard of BOBO lens before but the name sounds so cute. FYI, BOBO means sleeping in Indonesia language so yeah LOL Like mostly circle lenses sold on internet, BOBO is also made in Korean. The price is 31USD including shipping worldwide from gallover, you can buy it HERE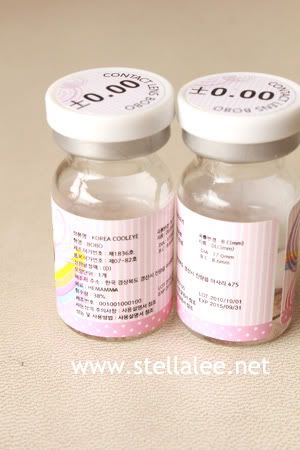 Diameter:17.00mm




Center Thickness:0.03mm




Basic Curve:8.6mm




Water Content:38%




Disposal Time : (yearly)




Power:0--750度



The lens look kinda reddish, the color is almost similar with Tsubasa's Bambi seriues in chocolate brown [that's failed for me because it looks so red on my eyes], but BOBO 3 tones has less pattern which makes it look more natural and mature!
without flash
with flash
As you guys can see that this lens is really natural and blended well on my real eyes!! I never have lens this natural with 17mm diameter! It makes my eyes look like caucasian eyes! No lie! o__o
The pattern is not obvious nor too strong, just gives the right amount of natural looking eyes. I look more otona and though it's 17mm, it doesn't give me that big scary dolly eyes! Unfortunately I my eyes get tired easily from this lens after a few hours. I think its because of the size of the lens. As the bigger the diameter, the easier it is to get dry and tired.
Also it doesn't have 0.25, 0,5, and 0,75 power which is too bad coz my right eye is 0,75. So I had to use the plano one, and I cannot read well if I walk with this lens haha. But overall this lens is a good things, especially if you're looking for more adult lens!

What do you think of the lens? Do you prefer the dolly looking or the natural one?