Dolly Wink Pencil Eyeliner in 01 Black Review and Swatch + Magic Skin BB Cream Review
January 18, 2012
Everyone loves Dolly Wink :heart:
And I have a chance to try the pencil eyeliner after being impressed so much by the liquid eyeliner.





Super hit! Advertised by the super famous young & trendy Japanese model Tsubasa Masuwaka, this trendy makeup series quickly sold out (especially the eyelash products) in Japan. This is a waterproof type pencil eyeliner with ultra-fine type .




Koji Dolly Wink Pencil Eyeliner is not easy to break. The content is super soft and smooth, allowing you to easily draw natural eye lines. The eye line drawn is not easy to get smudged for a long period of time. It leaves eyes bright, deep and serene.










The packaging is extremely cute and really "Dolly Wink". Every pink and kawaii lover stuffs would probably fall in love with the appearance of the eyeliner itself. It is a littler shorter compared to other pencil eyeliners I have owned though. The tip is a sharp if you buy it for the first time, so I rub it on the back of my hand first to smooth it
Swatch
Dolly Wink Pencil Eyeliner is probably one of the darkest pencil liner I've ever tried so far. It gives a strong and intense black line so it can be used for both upper and lower lashline to give your eyes strong look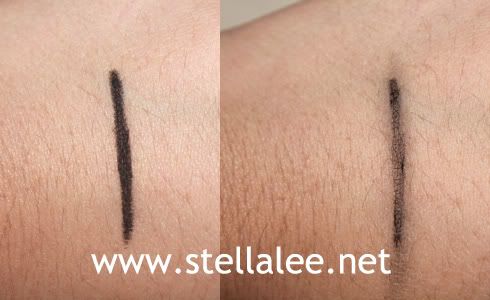 Unfortunately although everyone says it's not smudgy, once I rub it on my back of my hand, it becomes messy like that. Also, after 3 hours I find that it's smudgy as well on my lower lashline, please keep in mind that my eyes are watery so any liners can easily smudge on it. Dolly Wink Pencil Liner is no exception. Though I must say that it's really waterproof, so just make sure you dont rub your eyes when youre using it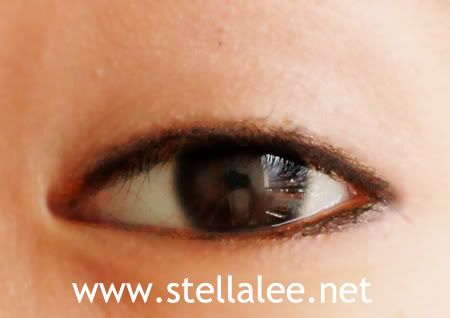 This is how it looks like when I tightline my waterline with it after a 1 hour. As you can see that the color is really vivid and strong, but it fades easily on sensitive eyes so just make sure you top it of with liquid liner or eyeshadow after wards. Though in my opinion, this is not the creamiest and easiest to use pencil eyeliner. Urban Decay 24/7 in Zero and MAC Kohl are much better, but doesn't mean that it's a bad product. It's just not my holy grail eyeliner :D
Final Opinion :
Pros :


Cute packaging


Intense black color


Waterproof


Glides on eyes smoothly


Cons :


Price may be expensive if you buy it outside Japan


Easily smudged


You can get it on MyLovelySister for Rp130.000 currently as they're having SALE atm [normal price is Rp150.000] HERE. Though I am a fan of Dolly Wink products, I find that their liquid eyeliner is the best while the pencil eyeliner just a so-so. But if you have normal eyes [not watery like me], probably you need to give this one a try
*
*
*
*
Anyway, I also received a mini sample from them. The product is called Magic SKin BB Cream. And this is the most expensive BB Cream I've ever known! The staff told me that the price for 40gr is Rp 840.000 [Around 90USD!!] And I was like "wutt!!!"
How come the product can be so expensive? I mean, it's just a BB Cream right?
So the product comes out so white and creamy almost like paint, but surprisingly it blends nicely on skin after a while and gives a really nice and healthy complexion!

Here's the before after, as you guys can see that it makes my skin smoother and has quite good coverage. NO PHOTOSHOP! Also my reddish skin becomes healthy and looks like not having any BB Cream at all because it blends super nicely on my skin! :-o #impressed
But seeing the price again, I doubt I would purchase the full size as I feel that the money can be used for purchasing skincare instead, which will make my skin better for real.
How about you? Do you think you want to give the most expensive BB Cream ever a try? :-o