Steam Cream Review
January 03, 2012
Never heard of Steam Cream before? Then you're sure missed out!
Steam Cream is a longer lasting, intensive, and effective moisturizer that is suitable for all skin types. It can be used on face, body, and hands. Steam Cream is the ultimate multi-tasking moisture injection, its natural, and revitalising
Steam Cream comes in unique Japanese designed packaging, consists of huge amount of design selections, while the product inside is still same. It's flushed-lid aluminiun tin is limited edition and becomes a collectibe and usable piece of art :D
I got myself the Quack edition as it's uber cute!
STEAMCREAM represents the latest concept in skincare. Using a revolutionary steam-infused manufacturing process, STEAMCREAM provides a long-lasting, intensive and effective form of skincare that can be used on face, body and hands.



STEAMCREAM have pioneered the use of a steam technique to create this unique, gentle and loosely-bound emulsion. This looseness allows each ingredient – including a moisturising and soothing oatmeal infusion, orange flower water and healing lavender oil – to breakdown and penetrate areas of the skin that other creams find hard to reach.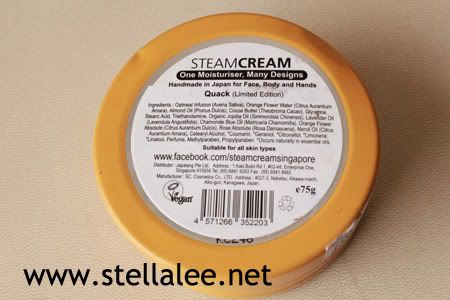 What's good in Steam Cream is its commitment to being environmentally responsible and ethically sounds. They encourage customers to =
Reduce the number of products they use --> Steam cream can be used on face, body, and hands!
Reuse the tins for a number of storage options --> It's easy to clean the can after we're out of products, can be used for storing anything!
Recycle the tins to give them an exciting afterlife --> You can get it recycled as it's eco friendly!
STEAMCREAM is also committed to being environmentally responsible and ethically sound. There is no single animal ingredient found in STEAMCREAM, nor is any STEAMCREAM ingredient tested on animals.
The product itself is not too thick nor too watery, it's light and its absorbed nicely on skin. It gives refreshing feeling and my skin feels more dehydrated and moisturized after the usage. Unfortunately sometimes when I recklessly put too much on my T-Zone, it becomes oilier than ever. So i have to carefully use it around my oily area. It leaves no greasy feeling, and I feel that my skin is getting suppler after weeks usage. I also use it on my body area where it tends to be dry. It's super effective to get rid of dryness, although after 8 hours, my body is getting dry again. Therefore, another layer of Steam Cream is needed :)
Swatch
Final Opinion :
Pros :


Travel Friendly


Affordable Price


Improve skin texture


Moisturizing and smoothing skin


Light and easily absorbed


A little goes a long way


Softens and nourishes all skin types


Re-usable packaging - eco friendly


Can be recycled


Work on many areas, including face, body, and hands


Cons :


Can easily spill if you dont lock it properly


Somehow as it's too rich, for those who have oily skin may feel skin getting oilier if you use too much


Personally I think that it's a good investment, no matter what skin type you have, you always need a good moisturizer to keep your skin hydrated!
I got mine from Beautycarousel for S$25.90, which is around 19USD, there are a lot of variant of packaging designs that you can pick to match your personality or mood, you can check it HERE . Also Beautycarousel is having sale that if you buy 2 Steam Cream, you can get 2 free gift boxes! They ship worldwide and sell a lot of interesting beauty stuffs, go check their site :D
Have you ever heard of Steam Cream before? :)