Kanebo Lunasol Water Cream Foundation Review
January 22, 2012
I've too much thoughts about my skin, because its completely not perfect like some people out there. But I took my photos with DSLR which has superb quality to take any flaws on my skin even though mirror in my room disagree -__-" Therefore I always have tendency to find the greatest coverage ever so I look okay on the photo. Sometimes I even have to cheat when I camwhore by PS it [though when I do product reviews especially face products, I don't do so] so I look flawless
Finding the greatest and holy grail foundation is necessary, and sometimes liquid foundation is not enough to support my needs. Therefore I decided to move to cream foundation as it has medium to high coverage. I always believe to use Asian products for my face, especially Japanese brands. Not only because I am a fan of Japanese products, but also I believe they're the best in having the greatest skin! So this time, I give Kanebo Lunasol a try ! :D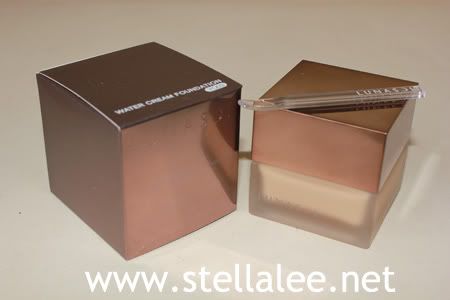 With a phenomenal spreadability and airiness that can hardly be expected to believe a cream and could only be achieved with a water composition of approximately 60%, this foundation is created, adopting the Water Keeping Formula that provides and retains moisture.
Translucent Smoothing Polymer* covers visible pores and uneven surface while leaving the skin more translucent and radiant for hours.



The products come in 6 shades, through the staff's help I finally find out that I am most suitable for OC03 the most :D When you purchase from Kanebo, they will analysis your skin through their high technology machine so you will know about your skin type, skin condition, and even skin shade! They also said that my skin is quite good though I really need to cleanse it better #okay and I have dull skin. But other than that, it's fine :D At each Kanebo counter they have the machine so you can ask for the test for free there before purchasing your own :)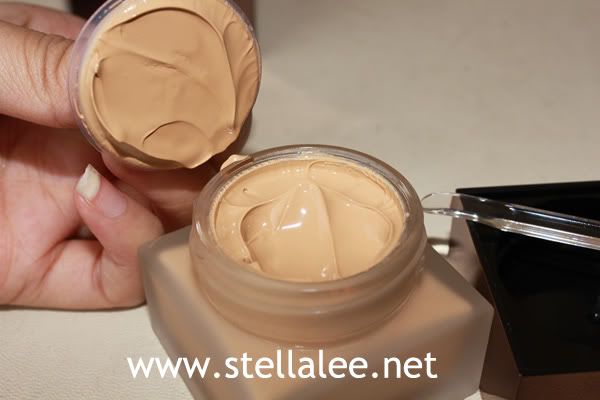 Cream Foundation's Coverage is usually medium to high so it's the best foundation's type to cover your imperfections. The packaging of Kanebo Lunasol Water Cream Foundation is really classy, though it's simple and sleek. The texture is a little thicker than liquid foundation
The product comes in a jar and completed with spatula to take out the product therefore our hand's bacteria won't be mixed into the foundation. They're very considerate to include the spatula as mostly as far as I know, some companies don't provide it. But just make sure that you clean your spatula everytime before you take out the product for hygiene issue
*
*
*
Swatch
Although it's called cream foundation, the texture is easy to spread and blend, almost like liquid foundation. But this one is a little creamier and thicker though. Not surprising that this is called Water Cream, because it's really hydrating and feels light on skin. You can see that the result gives a healthy and glowy finish
Before & After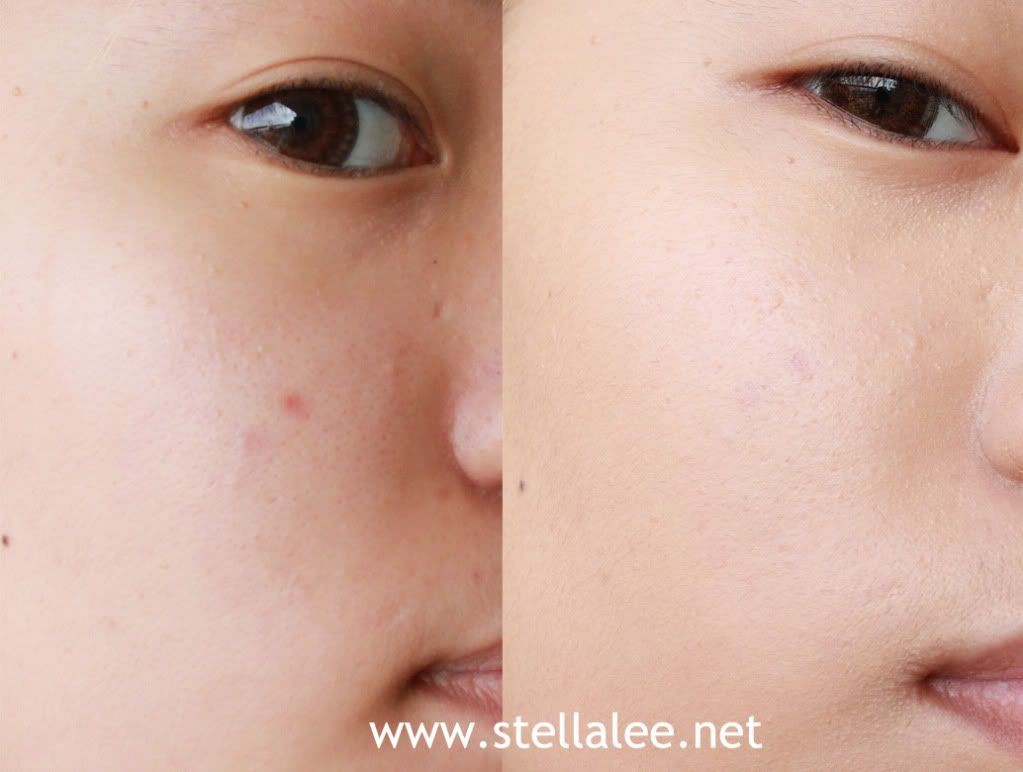 Left = use Kanebo Lunasol Smoothing Make Up Base. Right = Add Kanebo Lunasol Water Cream Foundation
My skin currently is not that bad. But I have reddish and some acne scars, Not to mention dull skin. Dark circle always haunts me till I am used to it and not even care of it anymore. But there are no pimples at now because I am in holiday, which means free from polluted Jakarta weather! 8D
Now on the right, is after using the Kanebo Lunasol Water Cream Foundation. You can see almost all the skin problems fixed! O___O Though you can still see that my red acne scar cannot be covered completely. You may layer the foundation to achieve better flawlees skin, but I prefer to leave it as it is to show you the real result. You can also cover it up with concealer for better result
 But so far that the coverage of the foundation is really good!
*
*
*
*
*
FOTD
The skin is not photoshopped at all so it's all thanks to the foundation. What you see here is probably what result you will get if you use the same product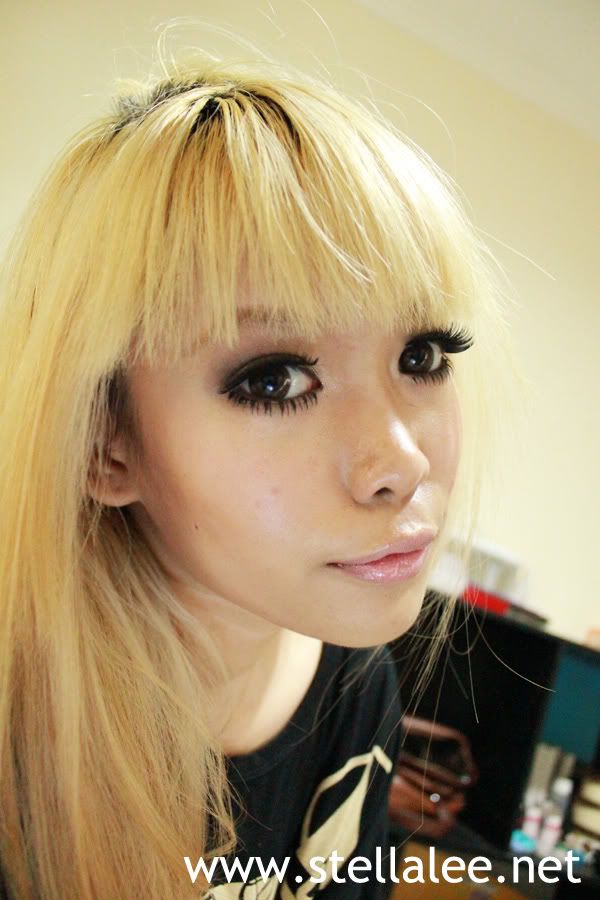 without flash
I feel the foundation is really light and blends perfectly on my skin! I feel as if I am not wearing foundation at all! It matches my skin tone so well and gives dewy finish so I look instantly brighter and fresher! I dont use powder at all because it will make the result difference. I have combination skin, oily on my T-zone and chin. At first it gives amazing result to cover it up, but after 3 hours, my nose begins get oily again so I have to blot it with blotting paper
Though if I use loose powder to set the foundation, it will be a little longer, which is about 4-5 hours. Touch up is necessary though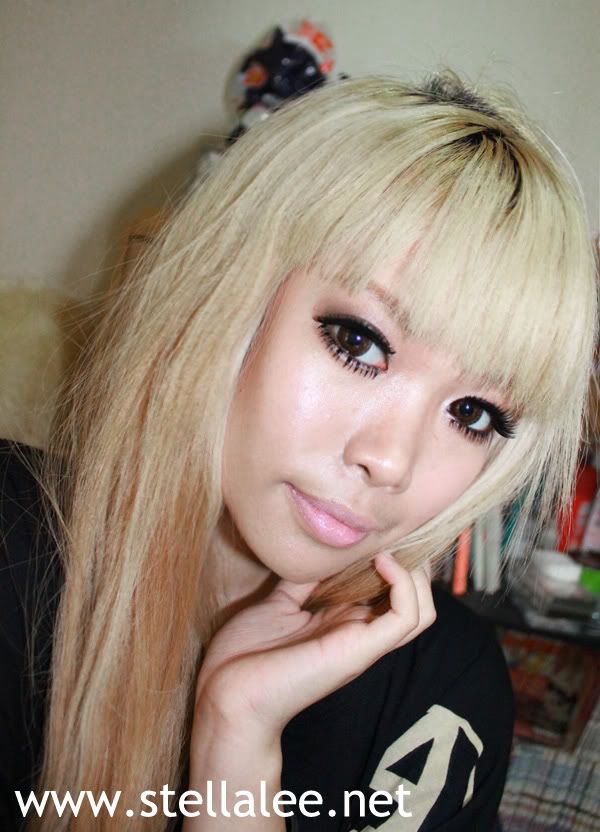 with flash
I thought since it contains SPF, the foundation would come lighter than the rest of my body. But see! My hand and face are almost in similar shade o_O What kind of sorcery is this? You also can see the glow on my cheek clearer when using the flash. I feel that if I use this foundation, I dont have to use any highlighter because the finish is really natural and glowy already :D



Products that I use =




Kanebo Lunasol Smoothing Make Up Base




Kanebo Lunasol Water Cream Foundation in OC03




Heavy Rotation Eyebrow Powder in Medium Brown




Calvin Klein Eyebrow Pencil in Dark Blonde




Urban Decay Eyeshadow from NAKED Palette [Virgin, Sin, Naked, Smog, Creep]




Dolly Wink Liquid Eyeliner and Pencil Eyeliner in Black




Canmake Cream Cheek in 03




Candy Doll Lipgloss in Macaroon Pink



Final Opinion =
Pros :


Hydrating and moisturizing


Gives medium to high coverage to cover your imperfections


Comes with spatula for hygiene


Classy packaging


Gives dewy finish to brighten up your skin


Doesn't give any pale ghost looking skin though have SPF


Contains SPF 19++


Blends nicely and easily on skin


Cons :


Expensive


Needs touch up after a few hours, especially on oily area


Though it is promised to be suitable for all skin types, I feel that it is much better for normal and dry skin customers. What I love is that the outcome comes out so natural and healthy on my skin, as if I am not wearing anything on my skin. It is also moisturizing and gives enough coverage for me. I am not really a fan of dewy finish but this foundation is an exception! Porcelain doll's skin look is easy to achieve :D :heart:
I think that this is the best foundation for me at the moment! It doesn't look cakey on me although I layer the foundation, which is impressive. It comes with 60% water which is good for our skin so I depend on this a lot! The price is Rp 475.000 , and you get what you pay. It's a worth to try product!
Love love love this product! :D
Also it receives a high rating on Make Up Alley as well! 4.2/5 !! Everyone seems lovin this product!
How about you? Are you interested in trying this foundation as well? :D