Urban Decay 24/7 Eyeliner in Electric Review and Swatch
January 17, 2012
I would keep this post as short as possible because I have reviewed Urban Decay 24/5 Eyeliner before long long time ago, and you can find it HERE . But as there's  new colors coming out, and I have chance to try it, I will share it with you all :)



Urban decay 24/7 glide-on eye pencil is creamy and waterproof, too. Velvety-soft, this never-before-seen formula stays soft and creamy for blending (about 30 seconds), then dries down to a long-lasting finish that will not budge. Line eyes with a hint of color or go for the full artistic, multi-hued effect with the wide selection of lush tropical hues, deep metallics and unusually vibrant neutrals. Created with 50% moisturizing ingredients suspended in a sophisticated waterproof formula, 24/7 Eye Pencils offer long-lasting color and a dreamy, creamy feel when applied. With Jojoba Oil, Vitamin E and Cottonseed Oil.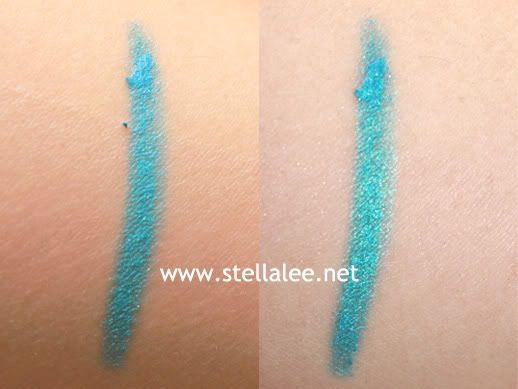 Left = without flash. Right = with flash
My opinion is still same, 24/7 Eyeliner from Urban Decay is definitely the creamiest and the easiest eyeliner pencil I've ever used. It comes with many colors but what I love the most is the half baked which is gold eyeliner, I usually use it on my inner corner to brighten up my eyes. Electric is a light metallic blue color that can really pops your eyes. Either use it alone, or just an accent, you can create endless cool looks with this color
Unfortunately as my eyes are quite watery, no eyeliners can stay on my lower eyes more than 3 hours and this eyeliner is not an exception. I got mine from Beautyofdiva for about 7USD
Final Opinion =
Pros :


Comes in many colors


Glides easily and smoothly on eyes


Creamy, so it's pretty easy to use even for beginner


Dries out fast


Can be blended with eyeshadow easily


Cons :


Doesn't stay on my lower eyes for over 3 hours


Personally I think it's one of the best eyeliner selling out there, but my eyes become watery easily and no pencil liners can stay long there. Which is too bad, since it's a good product already. If you don't have watery eyes like me, probably it can become your holy grail pencil eyeliner. I know so many people swear by this product, and most favorite among all is the "zero" eyeliner which is black. It's one of the darkest and creamiest pencil eyeliner I've ever tried
I dont think that I will really use electric that often, but probably when I want more colors and makes my eyes pop more, I will use it :)
Sorry for lack of posting these days guys, many things coming up and I'm busy preparing my first giveaway in 2012 as this is quite different than my usual giveaways. Also, my camera is borrowed by my friend because she needs it to take exam.. I don't want to disappoint you all by giving make up reviews using camera phone because the quality is pretty bad, and you cannot see the product clearly.
I will always provide the best review I can get :) So please stay tuned, and have a nice day :heart: