Kanebo Lunasol Smoothing Make Up Base Review and Swatch
January 20, 2012
I cannot stress enough the importance of putting make up base or primer before having your foundation or powder on your face. Primer / Base Make Up works as a barrier between your skin. The purposes are to make sure that your foundation and make up lasting longer, as well as to protect your bare skin from having contact with make up directly. Some Make Up Base also provides additional benefit, such as hydrating, smoothing, color correction, brightening, and so on
Kanebo Indonesia is kind enough to let me try out one of their make up base. I have combination skin, oily on T-Zone + chin and dry on cheek. They said the most suitable one for me is the Smoothing Make Up Base so I agreed. If you have the same combination skin and oily skin, check this out as probably this product is the one what youre looking for! :D



This gel-cream type makeup base spreads well and smoothes your skin while evening out pores and bumps on your skin.
The light-diffusion effect gives your skin radiance and keeps it smooth for hours.
This makeup base helps foundation adhere evenly to your skin and maintains the beauty of your foundation for hours.
Contains treatment ingredients to care for dryness-prone skin.



The product comes in classy tube packaging in 30g which can be easily carried when you're traveling. Also it's not made from glass so I don't have to worry that it may broke down as I am pretty clumsy and usually drop stuffs. And, as it's a squeeze tube model, the hygiene is proved because we don't take the product directly so the bacteria won't go into the product
Simply take an appropriate amount and spread it on your face. This product has a little relaxing light scent, which is a bit like vanilla scent for me? I love how it absorbs nicely on my skin and doesn't leave it with greasy feeling.
Swatch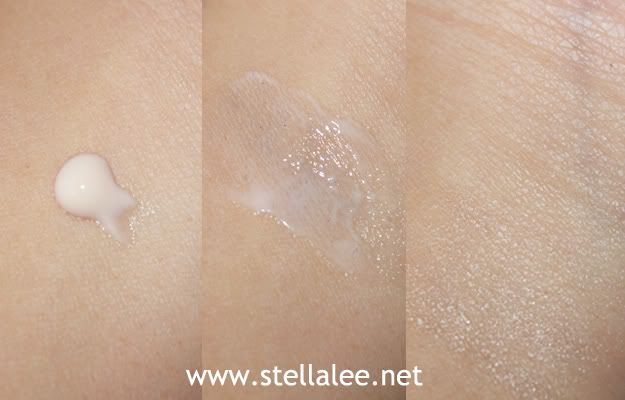 The consistency of the product is quite watery, and leaves my skin with brightening effect as well. A little goes a long way so don't put too much. Once I put a little too much and it ends up my face getting oilier instead of matte effect which I hoped to be :( You have to be careful with this product. The good point is, that it will last for a long time as you only need a little to cover up your face
It also doesn't have SPF, which I quite like, because with SPF product, my face would look pale and ghostly white on photo on flash photography. But for those of you who want to use it on daily basis on day, an additional sunblock to keep your face from sunlight is necessary. I prefer to have my make up and sunblock separated, therefore the make up can be used for night as well, and my face won't look lighter than the rest of my body :-D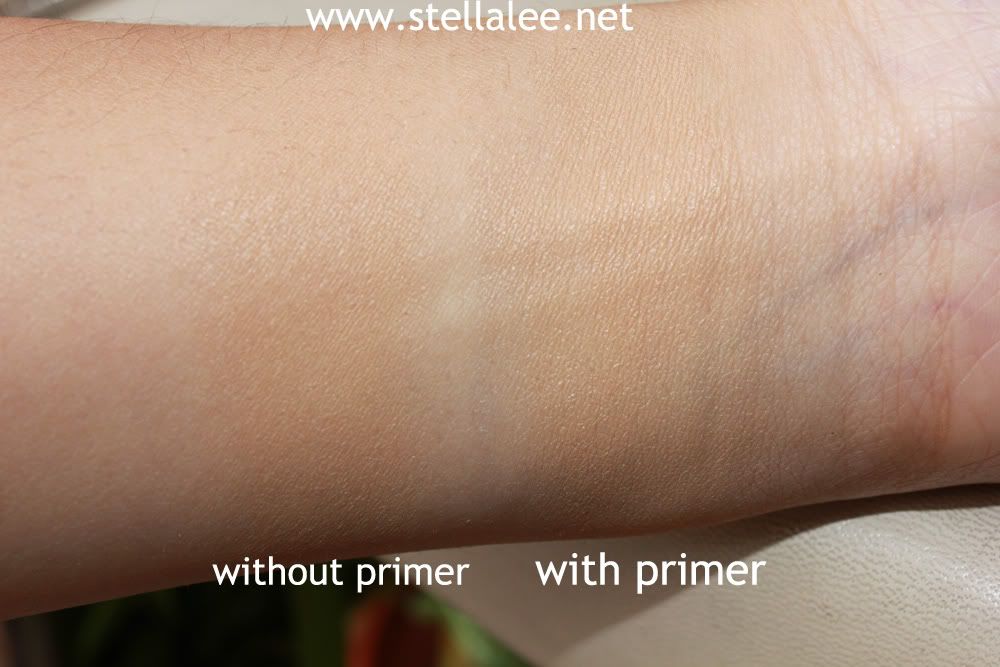 Here's the comparison. I use Kanebo Lunasol Water Cream Foundation, which I will review tomorrow as it's said to be the perfect match for this primer, said the Kanebo Staff. As you guys can see that the foundation comes out brighter and smoother than without using the primer. Notice that the foundation also comes out more natural and becomes not cakey?
The cream foundation has great coverage, so without the primer it can become too thick. By using the primer I can make the foundation looks luminous and more natural, similar to my skin tone. Though needless to say that the primer can only mattify my face for 3-4hours, after a while oil on my nose appears again so I have to use blot tissue to get rid of it :( But, skin still feels soft and smooth for a whole day!
Final Opinion :
Pros :


Classy squeeze tube packaging


Travel friendly


Makes foundation and powder glides easier and smoother


Makes skin look luminous and brighten


Has a little bit of vanilla scent


Doesn't contain SPF [may be a bad point for some people though]


A little goes a long way


Cons :


Expensive


Can have oilier skin if you use it too much


Last only for 3-4hours for mattify effect


Although I do think that it's good, but also it's not a must have for me due to the oil effect. The product is just a so-so. If only this held my oil longer, I would be crazy all over heels for this product. I think that this product can be used for dry skin as well since it moistens up my face. I see no reason why it has to stick on "oily-combination skin" only. I find that my dry cheek is superb with this primer. Probably it is only me?
I don't see any reason why this will be popular either. It's a great product, but it has no different benefit that makes it look greater among other similar products. If you're looking for a make up base and don't know what to buy, You may give this one a try though. The product is available at every Kanebo Indonesia's counter for Rp 380.000
Tomorrow I will provide the creme foundation review, this is just a start of introducing Kanebo to you all :D
How about you? Are you interested in having this product or not? :)