Urban Decay Naked Palette Review and Swatch
January 07, 2012
Finally I got the chance to try the almighty super famous Urban Decay Naked Palette! Naked Palette has been the most loved eyeshadow palette. Due to its popularity, almost every counters that sell it are out of the stocks, so it's become very limited. Now they have launched the Naked II but lets still take a look to the original one, shall we? :)






This long, lean, and seductive case comes packed with 12 gorgeous neutrals that work for absolutely everyone. Shades range from delicate champagne to gritty gunmetal, and feature five stunning new shades. A variety of textures, including glitter, shimmer, and matte, ensure that you'll never get bored. This versatile palette can go from office appropriate to a night on the town. The mirrored case also features a new professional-quality, cruelty-free Good Karma Eyeshadow Brush, plus a travel-size Eyeshadow Primer Potion in original formula.



Virgin is a nude eyeshadow with satin finishes. This color is perfect for base color, or highlight on the inner corner and browbone, also on the center of your eyelids, this will brighten up your eyes more
Sin is a champagne shimmer eyeshadow that's perfect as a base color or for inner corner. It has warm undertone and shimmer makes eyes look brighter without looking too much
Naked is a buff matte eyeshadow, and for those with fair skin, you can use this color to contour your eyes and nose. I personally love to use it to blend my eyeshadow with my skin therefore it won't look too harsh. Also if you have medium-tan skin, you can use this to highlight your nose bridge and browbone to give natural effect. Versatile eyeshadow color that's needed by everyone
Sidecar is a beige sparkle eyeshadow that can be used on your eyelid, or for natural look, go with it on your outer corner. Mix it with lighter color on the inner corner to create a beautiful
Buck is a brown matte eyeshadow that has become my favorite in this palette! I use it to fill my eyebrows, contour my eyes and nose, and to create depth on my eyes. I mostly use it on my crease to create deep set of eyes. Or, when I am in hurry, I put it on my eyelids up to my crease and blend it to create a soft smokey brown eye! Love love love this color!
Half Baked is my second favorite color from this palette, its a golden bronze shimmery color. This is super pretty, I mostly use it on my inner corner to brighten up my eyes. But if you want to have a glamorous look, you can use it all over your eyelid and it doesn't look like disco ball at all. Super pretty
Smog is the golden brown shimmer. I mostly use it together with half baked to create gradation color. It's a warm undertone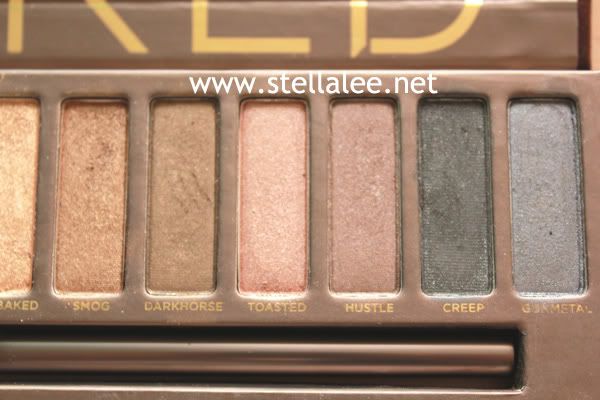 Darkhorse is a bronze-plum shimmer eyeshadow with cool unertone, I mostly use it on my outer V to create more definition on my eyes. It has less shimmer than Smog, so if you want to have a little shimmer on your outer corner but not too much, go for this one
Toasted is the taupe-bronze eyeshadow. I rarely use this color as somehow it's a little too reddish for my preference
Hustle is a mocha shimmer color that can be perfect for night out. I mainly use it for simple smokey eye like what I do with Buck, but because it has shimmer, it gives more sexy and sultry look on the eyes
Creep is the near-black metallic and the darkest eyeshadow among all. I wish they would provide matte black eyeshadow instead so it's easier to blend with the others, or to line my eyes with it.
Gunmetal is a cool dark grey metallic. I mostly mix it with creep eyeshadow to create smokey eye, the combination of the colors makes a cool smokey eye look. Although I dont use it alone as it can make eyes look a little puffy, and I still have difficulties to pair this color with other colors other than black
Swatch
Top = Without UDPP. Bottom = With UDPP [Without Flash]
Left to right = Virgin, Sin, Naked, Sidecar, Buck, Halfbaked, Smog, Darkhoarse, Toasted, Hustle, Creep, Gunmental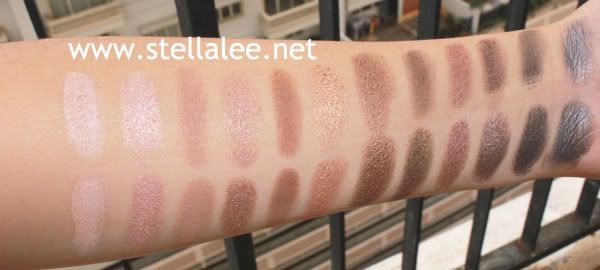 Top = Without UDPP. Bottom = With UDPP [With Flash]
Left to right = Virgin, Sin, Naked, Sidecar, Buck, Halfbaked, Smog, Darkhoarse, Toasted, Hustle, Creep, Gunmental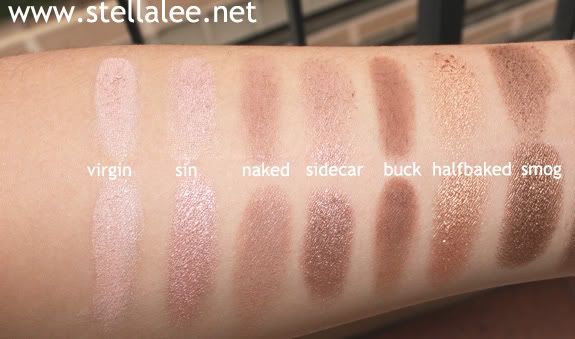 Top = Without UDPP. Bottom = With UDPP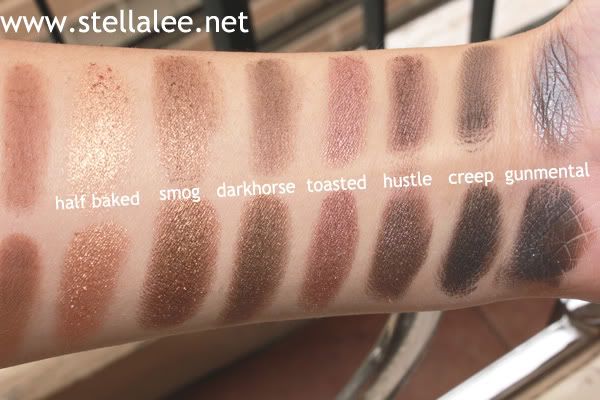 Top = Without UDPP. Bottom = With UDPP
*
*
*
*
*

If you ask me how much I love the palette, I may say that
I'M IN LOVE WITH THIS PALETTE SO SO MUCH <3
I've never had eyeshadows goes so smooth and nice on eyes/skin, also the eyeshadows itself are pretty pigmented even if you dont use eye primer. From natural, glamorous, to sexy look, can be achieved easily this awesome palette. The eyeshadows don't fall down easily either which is surprising due to many shimmers there. The colors can be used by everyone from fair to dark, and it can blended easily. All the eyeshadows are in high quality and very versatile.
It also comes with a mini size of the famous Urban Decay Eyeshadow Primer to make your eyeshadow lasting longer as well. And the brush that comes with the palette is not like any other cheap eyebrush, but instead its the full size Urban Decay Good Karma Eyeshadow Brush. It picks up and delivers amazing result, so it's definitely a good investment!
Although the palette looks so big, but it's really slim and travel friendly. Besides, the packaging is not something that can be easily broken down so don't worry to bring it with you when youre traveling :-D
The original price from Urban Decay store is 49USD, but this palette can go as high as 99USD on ebay! Crazy right! Mine is sponsored by BeautyofDiva. If you ask me if the palette is expensive or not? I think no, because if you ask the real value, its definitely more than it



This set contains:
- 12 x 0.05 oz shadows --> but 17 USD each for the single Urban Decay eyeshadow
- Good Karma Eyeshadow Brush --> but 26 USD if you buy separately
- 0.13 oz Travel-size Eyeshadow Primer Potion --> but 19 USD for full size UDPP



So yeah, it's definitely a worth to buy product, and it can also last you for a really long time. Besides, a good make up brush can last forever if you take care of it properly. Now I understand why this palette is the most famous one in this planet, because it's definitely worth every single penny lol
Final Opinion :
Pros :


Sleek and classy packaging


Good Value!


Comes with a great eyeshadow brush


The eyeshadows go on smooth and blendable


The colors are really versatile and pigmented


Contains all the high quality products from Urban Decay


Travel Friendly


The shades can be used by everyone's skin tone


The eyeshadows don't fall out


The eyeshadows last long even without eye primer's help


Cons :


Rare - Limited, Difficult to purchase


Fuh that's a long entry, but I have tendency to babble a lot of a product that I like. So yeah, you know how much I love this produc
I TOTALLY WANT YOU TO TRY IT BY YOURSELF =D
So you all can check by yourself how great this palette is. Having one high quality eyeshadow palette that can be used on various occasions is not a sin lol
Are you confident and proud with your current eyeshadow palette? For me, I am!