EOS Bytheye Circle Lens in Blue Review
March 19, 2012
I still remember that the first contact lens I own is in blue color. I started wearing circle lens since I was 12 years old, and it's an awesome experience. I still can recall the hesitate and frightening feeling when I tried putting it on eyes. It is scary, but the result is devastating. I haven't worn blue lens for years because it is somewhat too scary on me. I own too many brown lenses, and I get bored. I miss the bright blue on my eyes so I looked for a lens that gives vivid blue color on my eyes. Then the option falls to EOS Blytheye





EOS Blytheye




Made in Korea




Diameter = 14.80mm
B. C = 8.80mm
Water Content = 52%




 The blue color is really vivid and reminds me of ocean color, it has black ring on the outer corner to make eyes appear larger, but the pattern remains as minimal as possible. There is no color gradation on this lens that makes it somewhat look a little flat
Here is how the lens look like on my eyes. The color is really bright, and gorgeous! It makes my eyes appear larger but not overly large to the point of scary looking. As for the comfort, It is better than most of lenses I've tried. I wore this for over 8 hours and my eyes are still okay.
What I love from this lens is it gives the color that I want, bright blue!
It is quite difficult to find a lens that gives natural finish with vivid blue like this! I am lucky enough to get a pair of this! Unfortunately for some people, this may be a little too bright for natural use, but I can use it on daily basis because the comfort is absolute!
Here are some photos of me wearing the lenses! :D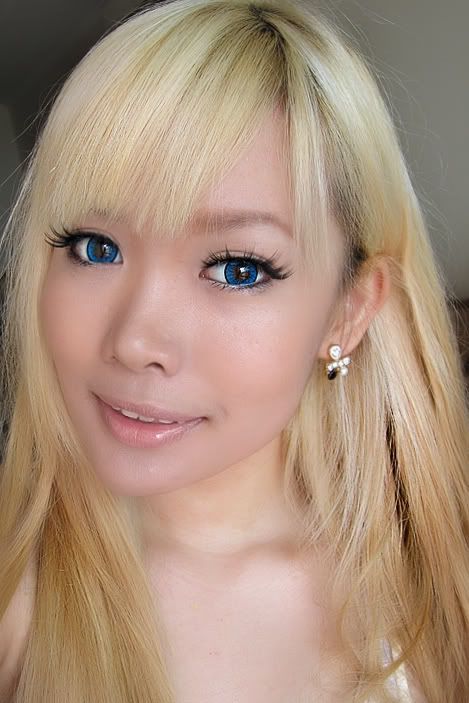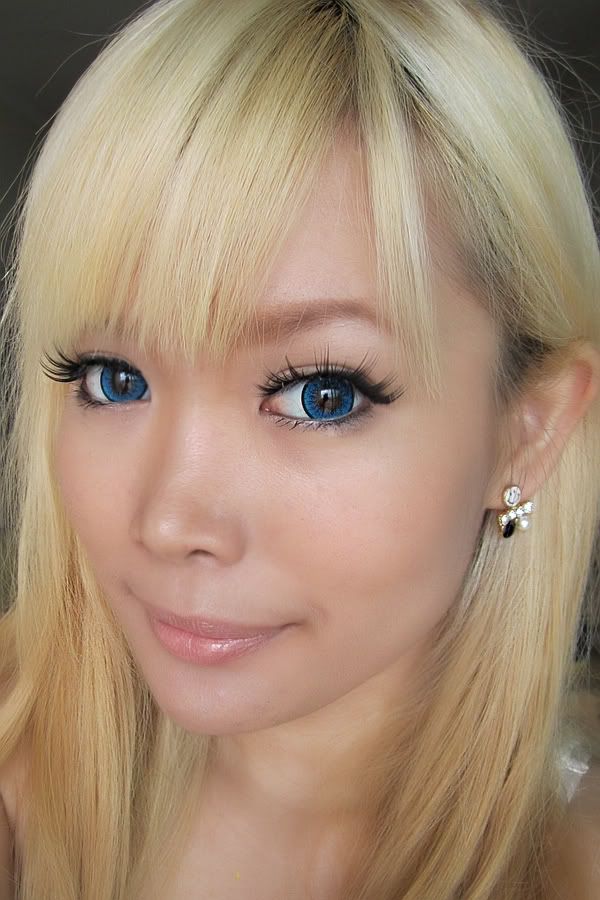 As you gals can see, the eyes become the main point and is really pretty! The bright blue really catches attention!
If you're looking for a bright colored lens, you gotta try this one! There are other colors available as well besides blue, such as green, purple, and so on. But if you're more into natural lens and afraid of a pop of color, you gotta avoid this lens and find a better match. Mine is sponsored by Tomato Online Shop, you can purchase it HERE !
Also, if you mention that you know them from me, you will receive 10% discount as well! So, DO mention! Because I heard a lot of my readers don't know about this and don't receive discount :( Such a waste right. 10% discount is quite okay loh!