Gyaru Make Up Tutorial - Step By Step Pictures
August 29, 2011
I haven't made any make up tutorial on my blog for quite a while, so I thought I'd be sharing my simple gyaru make up tutorial here, with step by step pictures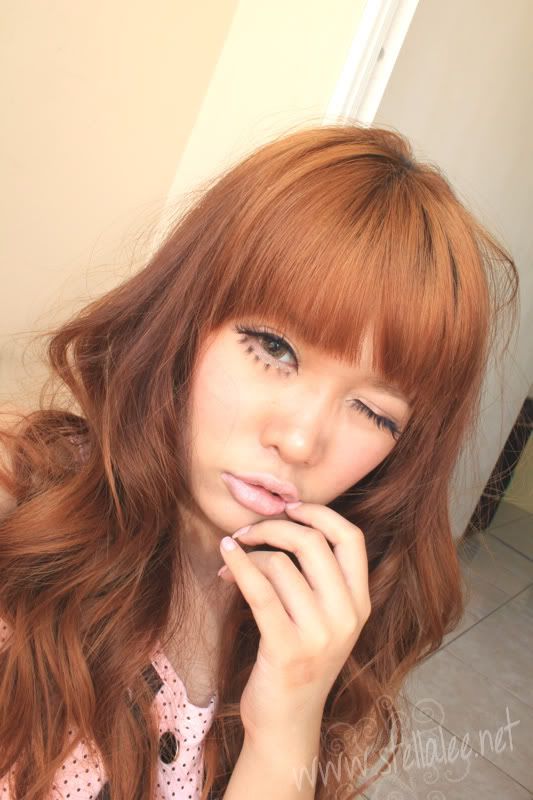 Gyaru comes from word "Gal" in english but pronounced as Gyaru by Japanese. Its basically all fashionable and stylish girls in Japan. Japanese gyaru is widely known for their tan skin, heavy make up, fashionable clothes, and bleached hair. Make up is one of the key for achieving gyaru look. So please read more if you're interested in my transformation :D



And I know I look so different with and without make up, thanks for admitting my make up skill. After all, I have guts to show you my bare face and unphotoshopped pictures too =D
Products that I used for achieving this look =
 
stop looking at Naruto stickers, its my brother's LOL;

1. Start with clean face. Make sure you have washed your face properly so it's ready to be dolled up
2. I apply
Make Up Forever HD Elixir
to moisten my face, especially my cheek because it's really dry. You may use your moisturizer. Dont forget to use sunblock if you're going out on day
3. Apply primer. Always use make up base or primer to make your make up last longer. I use
Monistat Chafing Relief Gel Primer
and rub it on my finger tips
4. Put the primer on my face into 5 sections, forehead, left-right cheek, nose, and chin. Then spread it evenly. By using primer the foundation will look smoother and more flawless. Gyaru has flawless face because we care about appearance a lot. So make sure your face is flawless too!

5. You can use foundation brush, stippling brush, finger, or anything, but I like to use sponge because it gives more flawless finish. I prepare 2 sponges, and you will know what they are for soon. Wet the sponge with water beforehand, and apply your foundation from the center of your face outward
6. I use
Lancome Teint Miracle Foundation in BO-02
, pump it on the back of my hand and take it with my sponge
7. Pat the foundation all over my face evenly, can always layer the foundation if you want more coverage

8. Time to contour face! You can't say no. Contouring is one of the biggest point in gyaru make up because by contouring you will have more defined & tanner face. I use
PAC Creamy Foundation in #10
. Contouring with foundation gives more natural effect, and this is when you use your second sponge for
9. Contour your face according to your face shape. I have square face so this is how I contour my cheek. Dont forget to contour your nose wing. Its a must must must on gyaru make up to achieve high-nose look
10. Using
Laura Mercier Undercover concealer in UC2
and the lightest shade to highlight the face
11. I hightlight my nose bridge, cheekbones, forehead, and chin. You can hardly see it I'm afraid because of the lighting. Just find any light foundation or concealer will do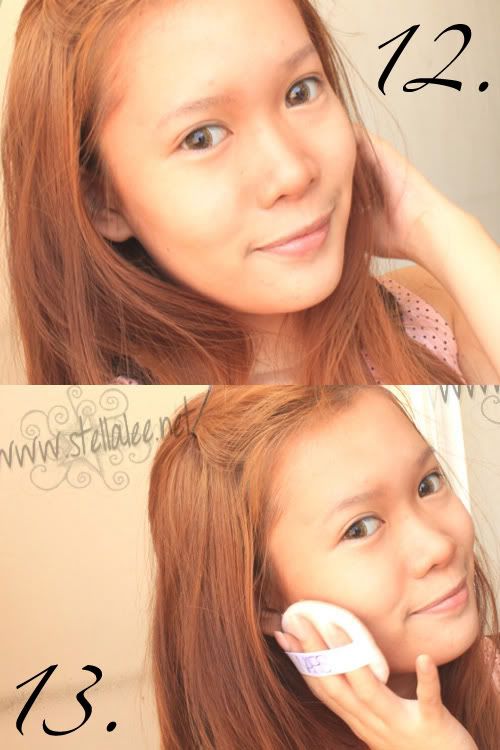 12. Blend it until you cant see the harsh edges. I blend the highlighter with my first sponge, and blend the shading with my second sponge
13. Powder to set up. I use
NARS Loose Powder in Flesh
. Pat it gently, dont rub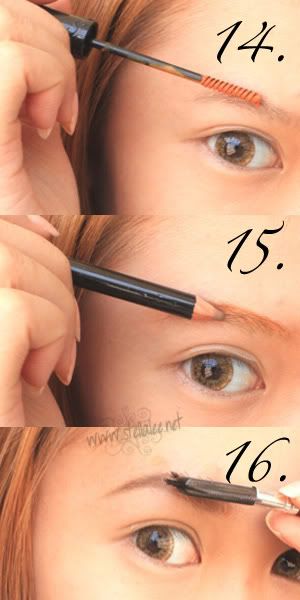 14. Time to re-define your brow. Using
Anna Sui Eyebrow Mascara in 600
to give orange-yellow color to my black eyebrow to match my hair color [I have no time to bleach it]
15. Draw the eyebrow and make sure its thinner but sharper on the end. I use Calvin Klein Eyebrow Pencil in Dark Blonde
16. Brush it with your eyebrow brush to make it more natural
17. Gyaru has big eyes and double eyelids, its a must. You can use eyelid tape, eyelid glue, or eyelid fibre. Unfortunately I only have eyelid tape with me so please bear with it
18. Use circle lenses to give bigger and dolly eyes. I use
Vivian 3-Tone in Brown sponsored by GalLover
. It's diameter is 17mm. Dont use 14mm because almost every gyarus wear more than 15mm circle lens
19. Prime your eyes with eyeshadow primer. I use
Urban Decay Primer Potion
. It will make the eyeshadow last longer and the color will be more vibrant, apply some on your lower eye too because we will put some eyeshadow there. Blend it gently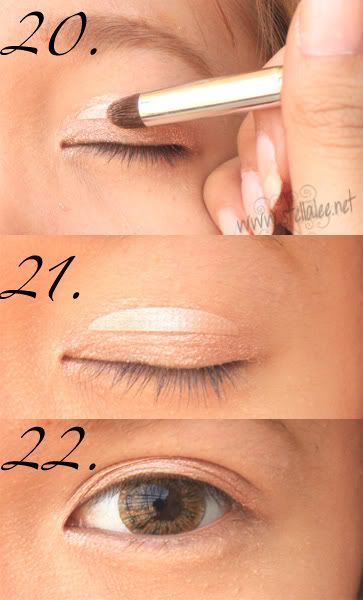 20. Apply any medium brown eyeshadow. I use
Benefit Creaseless Cream Eyeshadow in RSVP
. Apply it all over my eyelid
21 & 22 . Open & Close Eyes, with Benefit Creaseless Cream Eyeshadow in RSVP only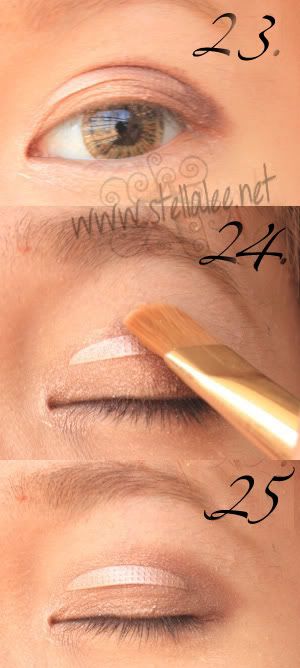 23. Take any dark brown eyeshadow and place it on my outer V. The dark brown eyeshadow I'm using is just a random eyeshadow from
NYX Smokey Eyes Box S114
. You can use any dark brown eyeshadow that you have
24. Blend the eyeshadow so there will be no harsh edges between the first eyeshadow
25. Much better right, but there's still some harsh line on outer corner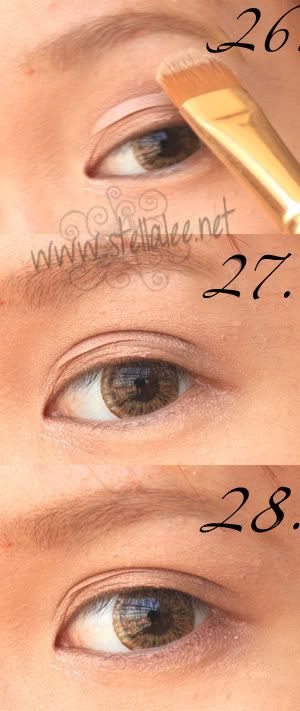 26. Take any matte light eyeshadow. I use random light matte eyeshadow from  my NYX Palette, and then place it on the browbone and use what's left on the brush to blend the harsh edges on your outer corner
27. Say good bye to harsh edges
28. Use the dark brown eyeshadow that we use before, and place it on lower lashline halfway
29. Line your eyes, and wing it a little. I also decide to draw a thin line on my inner corner to change my eye shape. I use
Dolly Wink Liquid Eyeliner
because its really easy to use , especially when drawing thin line
30. Time for your false eyelashes. Glue the band with your eyelash glue. I use
Dolly Wink False Eyelashes in 02 Sweet Girly
for my fake eyelashes, and using
Duo Eyelash Adhesive
for gluing. Eyelashes is a must in gyaru look! you cant skip this step!
31. Place it as close to your lashline as possible, and secure it in place with Q-tip if you want
32. Curl your lashes so the fake lashes and your real lashes will blend together.
33. Do the same to the other eye, once the glue dries, it will remain clear. Apply mascara afterwards
34. Use
Dolly Wink False Eyelashes in 06 Baby Cute
for my lower lashes, and place it a little far away from your real lashes to give bigger looking eyes. I use tweezer to put it for precise application, and attach the bottom lashes carefully

35. Use light matte pink blush on the apples of your cheek. Focus on the apples instead of bringing it outward. I use
MAC Powder Blush in Pink Swoon
36. Apply your lip balm to get rid of dry lips. Gyaru's lips are so moist so chappy lips is a big no
37. Use any nude lipstick or in my case,
Lip creme from NYX in Tokyo
.  I prefer nude pink for my look to give sweeter look
38. Curl your hair and style it accordingly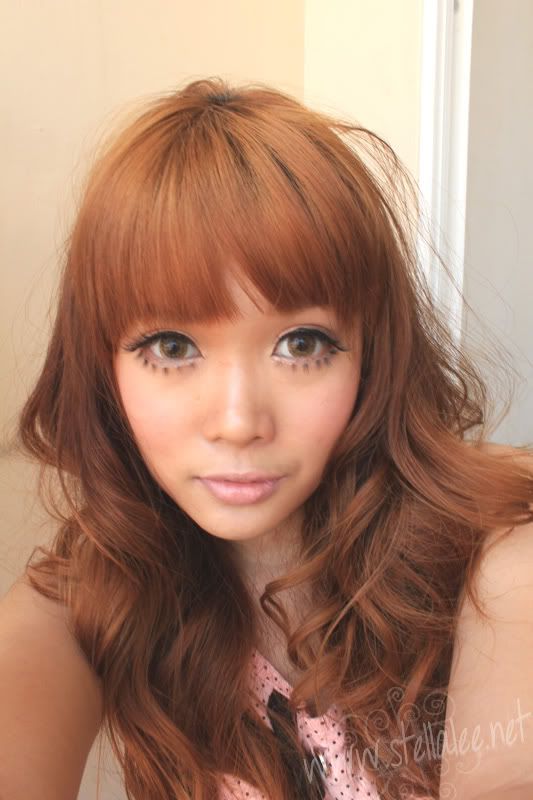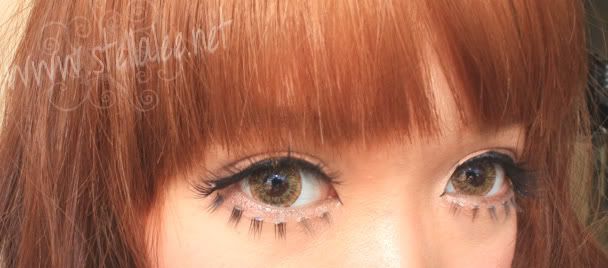 The rest of it, are only useless self-absorbed vain photos of mine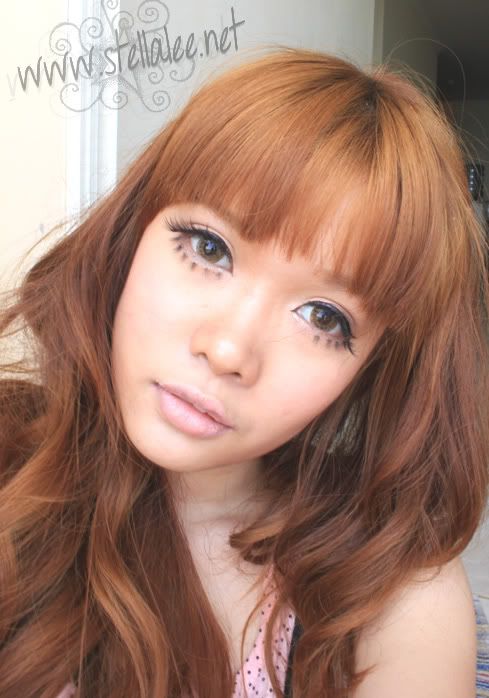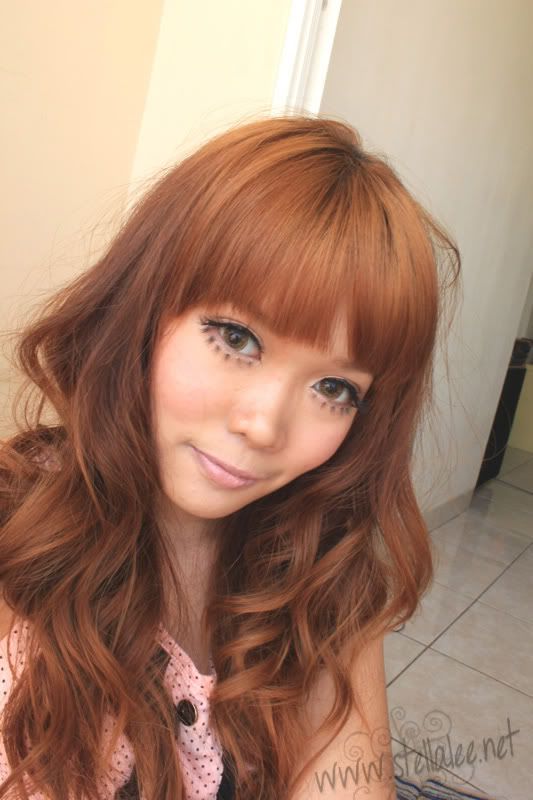 taken with my webcam, geez it looks much better with crap cameras! ==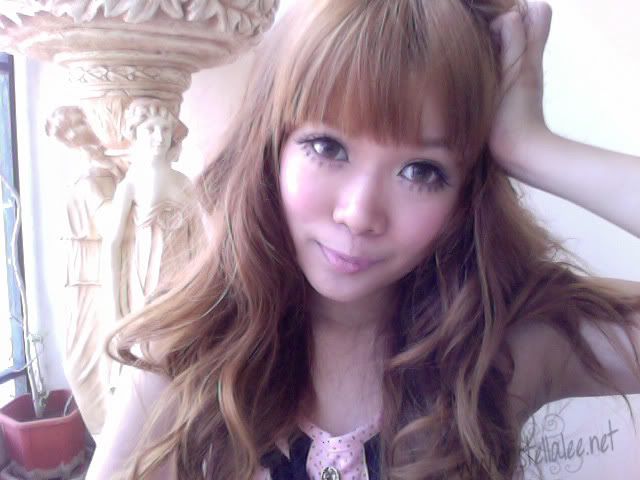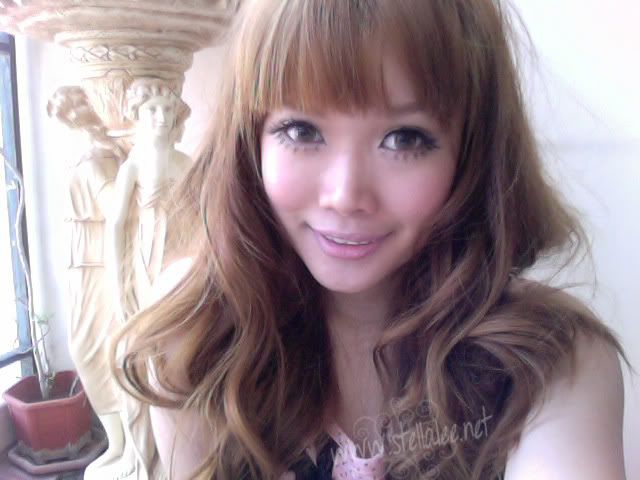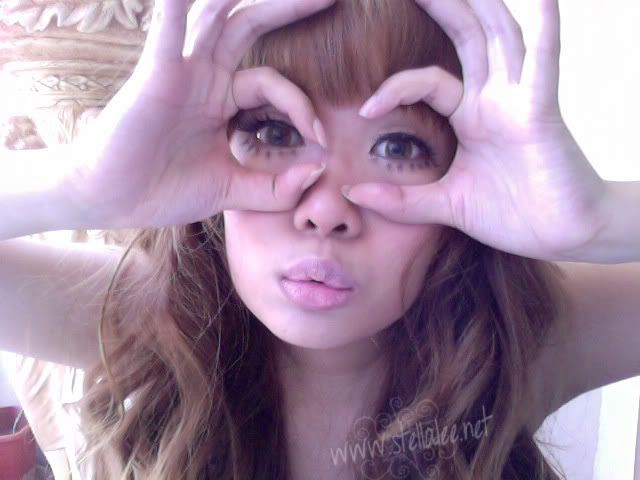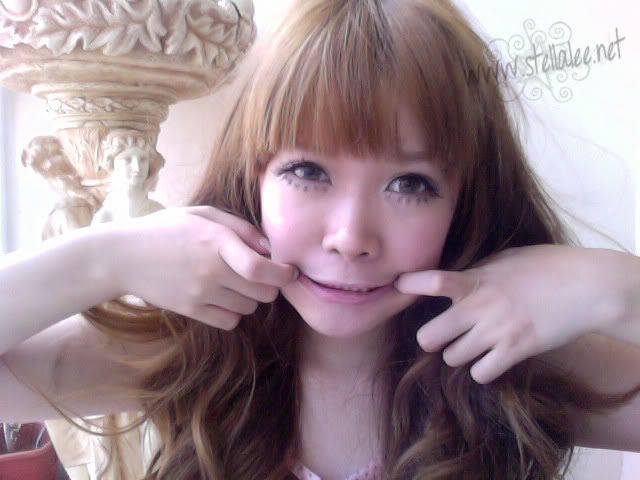 so, do you enjoy this make up tutorial or find it helpful? In fact Gyaru make up is not that difficult to follow. The gyaru make up trend nowadays is nude make up, nude lips, deep eyelids, big upper and lower false eyelashes, pinkish cheek, and contoured face & nose
you may purchase the circle lenses that I use for this tutorial in GalLover, they ship worldwide with a lot of gyaru circle lenses types to choose from. I use Vivian 3 Tone in Brown and it gives feminine and cute effect on my eyes
Let me hear your comment or opinion below to improve my next tutorial!
--------
Anyway, a lot of people mention about my lower lashes, thanks a lot for the comments and suggestion on twitter, mail, and so on. It's not the natural gyaru make up for daily use. the look is supposed for fun. Probably next time I'd make the natural gyaru make up. The lower lashes are inspired by Tsubasa's dolly wink in baby cute so I put it quite apart from my real lashes. I wont use this kind of make up when I go out either lol
I will make another tutorial so please wait for it ^__^ <3
So, until next time gals
with love, Stella <3